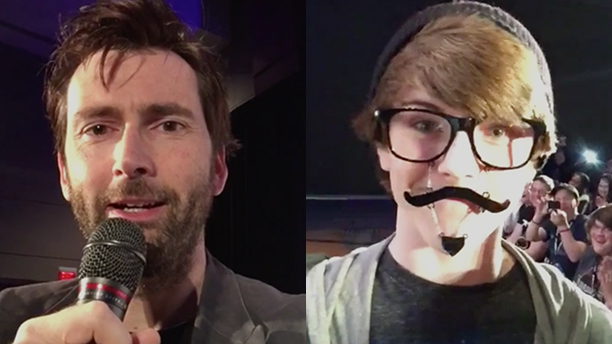 Doctor Who's David Tennant was in quite the loved-up mood this past weekend, as seen at the Wizard World Comic Con in Raleigh, North Carolina.
This was Tennant's first time at the wizarding event, and he brought his game. On Saturday (March 14), Tennant announced that, in his opinion, companion Rose Tyler (Billie Piper) was indeed the Doctor's girlfriend, saying, "Rose was a girlfriend even if they didn't say it."
He witnessed a marriage proposal over the weekend, which may have given him some ideas of his own, with Tennant helping a young fan ask out a girl he fancied. Tennant did a call out to the girl, saying, "Margaret. It's David Tennant here. I believe you were here yesterday, where are you?? … Can I give you one word of advice: you need to go out with this guy."
The camera pans to a young guy wearing a plastic mustache and goatee, which has been posted to Tumblr by the girl herself.
She included a response with the video, writing, "So I just got asked out through David Tennant! Sweetest thing ever! I'm crying!"
We now know that she is keen on David Tennant. We're not absolutely clear on the date itself. We're guessing that's a "yes."
How do you think Tennant did at his first Wizard World Comic Con? 
See More: 
Red Nose Day Highlights: 30th Anniversary Tops £1bn in Fundraising
WATCH: David Tennant's Alec Hardy Reveals Why He Came to Broadchurch
ITV Confirms Season Three of 'Broadchurch'
Read More
Filed Under: