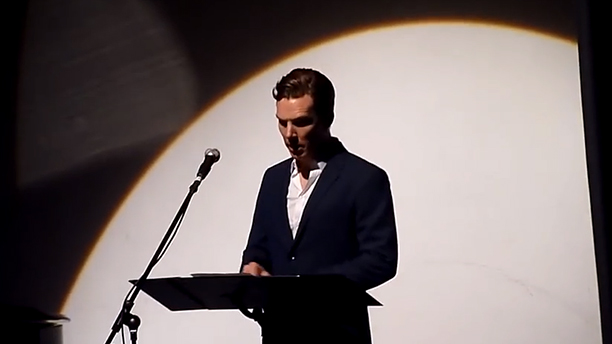 When was the last time you wrote someone a letter? Like the kind you send in the post, not an email.
Canongate, an independent publisher in the U.K., may have been thinking about the same thing when they came up with the stage event Letters Live.
The show spans five nights, with up to nine celebrities reading letters written by historical figures at each two-hour session, taking place at Freemason's Hall in Covent Garden, London, from March 31 to April 4.
This event has been happening since 2013, with Benedict Cumberbatch being a regular contributor. Cumberbatch will be in attendance this year, along with Sherlock co-star Louise Brealey, Sally Hawkins, and musician Tom Odell. Letters read will include those written by Virginia Woolf, Gandhi, and Queen Elizabeth II.
Jamie Byng, Canongate publisher, told The Guardian, "To me a joy has been the matching of letters with performers. At the first Letters Live event, Benedict read the Alan Turing letter, and at that time I knew he was going to play him in the film, so it was a nice in-joke."
Canongate has teamed up with a television company to record the readings, making them available to the public on the event's website.
Here's a look at Cumberbatch reading a letter from Turing to Norman Routledge:
Are you inspired to get your pen and paper out and write a letter!
See More: 
Steven Moffat Confirms 'Sherlock' Special is 'Victorian'
What Was Benedict Cumberbatch Whispering About on the Red Carpet?
Benedict Cumberbatch's 'Hamlet' to Receive Cinematic Release
Read More
Filed Under: