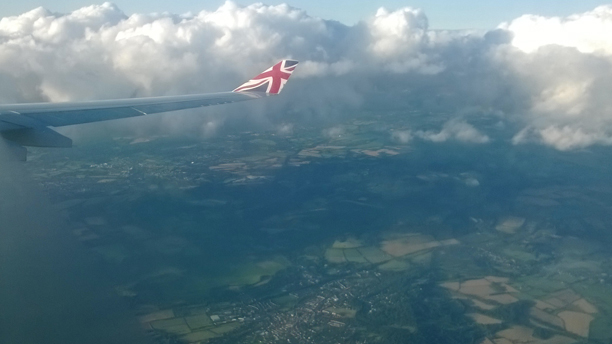 You're moving to Britain? Lucky duck! You may be heading to the U.K. for an extended stay as a tourist, a longer stay as a student, or have a one-way ticket because you're actually going for work. Whatever your reason, the big move will be here before you know it, and it's really easy to forget something. First things first, make a list, and make sure to add these 10 items:
1. Passport
You may already have a passport, and if that's the case, it's good to check the expiration date for your return trip. You don't want to be in a foreign country and realize you may not be able to leave. As well, you need your passport to travel within Europe, like from England to France. If you don't have your passport already, please allow at least two months to get it sorted. You can have it expedited, but why pay the extra fee if you don't have to? The first step, of course, is to get Glamour Shot ready for your passport photo, which you can have taken at places like CVS, Walgreens, FedEx, Kinko's, UPS or your local post office. Yes, you can use a DIY photo, but the passport people are pretty strict when it comes to photo size, background color, and even facial expression, so it'll save time to leave it to the experts. If this is your first passport, you may need to apply for it in person to show proof of identification. You can find the application, necessary forms of ID, and where and how to send/bring everything at U.S. Passports & International Travel.
2. Visa
Your U.S. passport acts as a tourist visa, which allows you a six-month stay in the U.K. If you're heading to the U.K. as an undergraduate or graduate student, your school will most likely take care of your paperwork, which you carry with you when crossing international borders. If your school does not handle your visa status, you can find directions at Gov.UK. If your current U.S. company is moving you to the U.K., they may have everything handled, but you don't want to find out the day before your departure that the visa has been delayed. If you've accepted a job with a U.K. company, you need to have your work visa confirmed before you leave, not upon your arrival.
3. Immunizations
Immunizations aren't necessarily necessary, but some are recommended as precautions like measles, mumps, rubella (if you haven't gotten them before); tetanus; and influenza if traveling between November and April. From my own experience, when heading to London as a graduate student, I was required to get a physical and a tetanus shot prior to making the move. When I made the mistake of announcing the tetanus shot on my personal Facebook, people misunderstood and thought I had stepped on a rusty nail or some other dastardly deed. No, no, just living my dream of moving to London. I then Googled what could happen if I actually did get tetanus from the shot … umm, don't do that.
4. Travel Insurance
Sure, the National Health Service (NHS) sounds like the be-all and end-all in terms of medical care, but you have to get to the U.K. first, and that's where travel insurance may come in handy. According to Today, "Travel insurance can include trip cancellation, trip interruption, accidental death or dismemberment, medical and dental care, transportation to medical facilities, loss of luggage or personal possessions and protection against the bankruptcy or default of your cruise line or tour operator." Being a new arrival, you may not be eligible for public health care, with the NHS being normally free if you are "ordinarily resident" in the U.K., which is defined by ExpatBriefing.com. It doesn't hurt to have a health plan set up to supplement the NHS. You can always cut back once you're there and get a lay of the land.
5. Bank
It's a good idea to call your bank and let them know that you will be out of the country, or they may turn off your credit card or deactivate your debit card if they sense that there's something fraudulent going on. In addition to notifying your bank of moving abroad, it's a good idea to print off a recent bank account statement for when you go through U.K. customs. It's not always the case, but they may ask you for proof that you can sustain your stay financially without working in the U.K. (if you don't have a work visa). If you have it with you, you most likely won't even need it … kind of like an umbrella.
6. Flight
We may be stating the obvious, and you're thinking to yourself, "Well, of course I'll get a flight, how else would I get to the U.K.?" But the key is to book far in advance, and if you can, to travel at off-peak times. The price of flights vary depending on the time of year, the most expensive flights are over the holidays, including New Year's Eve and summer. But, for the most part, any time of year the flights will lean toward pricey, approximately $1000 or more. In terms of booking in advance, at least you'll have options in terms of departure times. I waited until the last minute to book a flight my last trip to London, and found myself getting up at 4:30 am to make it to Heathrow for a 7 am flight on my return.
7. Packing
Packing is kind of tricky because it depends how long you're going for. But remember that they do have stores in the U.K., so don't feel like you have to bring everything you own. Let's say you're going for a six-month to a yearlong stay: Your best bet is to pack one large piece of luggage and your allotted carry on. Sure, you can check two bags, but remember, you have to carry them when you arrive. If you have someone waiting for you on the other end and can help you to the taxi or manage the Tube, then go crazy and pack two bags. If you're going for an indefinite amount of time, you may have to be headstrong and sort through your items and donate them or set up a storage unit, depending on your needs. If you're going for a seriously long time with your work and you don't know when you might be back, cross your fingers that your employer will ship your furniture and housing items. Otherwise, you may want to purchase new furniture in the U.K. instead of picking up the overseas shipping costs.
8. Phone
We'd suggest going to your phone carrier in person instead of relying on a phone call or email. Ask your carrier if your phone is set up for international calling while in the U.K. It's pretty expensive to make phone calls on a U.S. phone while in the U.K. because of roaming charges. If you want to cancel your U.S. plan but want to have a phone for traveling from the airport to your new place of stay, you can order a U.K. phone and have it shipped to your home, and it will work upon arrival. How did I come across this fun fact? I went to London for a visit in 2008, and when I arrived to Heathrow I realized my phone didn't work at all. I bought a SIM card from a vending machine, but the card didn't fit my phone. I still thought the situation was manageable as I had arrived with British coins in my pocket from a prior trip, and I tried to use them to make a phone call on a pay phone, but to no avail. I actually ended up asking a stranger to borrow their phone. So, after all of that, the next time I traveled to London I ordered a phone while still in the U.S., and lo and behold, when I got to Heathrow, I had a working phone. It only lasted a week or so before completely dying, but it got me through those early days.  

9. Mail
Any big move requires you notifying the post office of a change of address. The USPS form doesn't give you the option to enter a new country via its online service. You can opt for a third party organization like U.S. Global Mail or Mailbox Forwarding to handle your leftover bits and pieces arriving to your former address. If that seems like a lot of forwarding, you might ask a family member or friend if it's okay for your mail to go to them while you're away. If they're keen on the idea, they can bundle your mail and send it to you in one big batch via air mail.

10. Facebook Announcement
"I'm moving to London!!" could be your Facebook update, but that's not quite what we had in mind. Facebook is a good way to reach out to people you know, let them know you're moving, and they may have friends or family in the U.K. It might be nice to try and make some introductions before arriving. Juliet Angus, an American expat who appeared on Bravo's Ladies of London, talked about making the transition to London life during the series. She moved to the U.K. with her husband and children but didn't have any gal pals there. She reached out to friends in the U.S., asking them to set her up on "friend dates," which resulted in her meeting her LOL castmate Marissa Hermer. It may seem awkward to do this, but you've already decided to move to the U.K., keeping an open mind to new things is a necessity.
When are you moving? Send us a postcard please! 
See More: 
10 Things Americans Love About Living in Britain
5 Lessons Learned from Sharing a Flat in London
10 Things That Could Annoy You About Living in London
Read More
Filed Under: