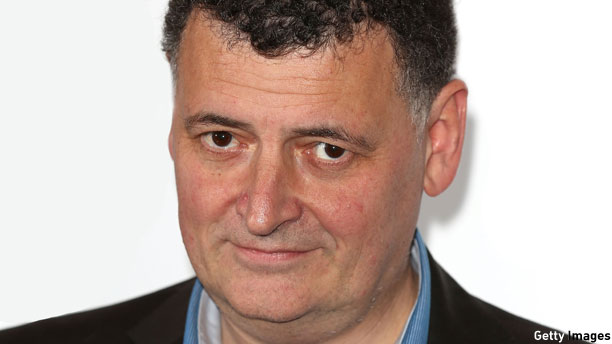 There can be little doubt now that the decision to cast Michelle Gomez as Missy in Doctor Who has caught the imagination of fans, as anyone who has witnessed the explosion in her fan art across social media can attest.
However, as Steven Moffat revealed in a recent Press Association interview, when the plan was first formulated, no one was entirely sure how such a fundamental shift (which we're not going to explain here, in case it spoils it for someone) would be received.
He said: "Michelle was such a hit. And that was such a big thing to do, almost a tricky thing to say 'are people going to go for this beloved yet hated character when we change the gender?'
But they didn't blink, they're perfectly happy."
To be fair, Doctor Who fans have been fairly well warned about blinking, but the point remains true. Steven also added that the Doctor and Clara are in for another rough ride when Missy returns at the beginning of Season Nine:
"Michelle is shooting more or less right now for the opening two-parter," he said, "There are certainly surprises, but she's still the same evil Missy she was last time."
He was also asked about the fan reaction to Sherlock, and said that the intensity of the public need for there to be more episodes is something that does occasionally cause the odd pang of remorse: "The appetite for Sherlock is wonderful. I feel slightly guilty that we may have exacerbated the appetite through starvation because we make so few of them over so much time. But it's incredibly rewarding that each time we come back it's so rapturously received."
There again, as he has said before, it's the slower pace of production that ensure's Sherlock's longevity: "It makes it last longer, that's for sure. If we'd done it at the normal rate, which would be six to 12 every year or every two years, we'd be finished by now and we'd never get hold of Benedict [Cumberbatch] and Martin [Freeman] again.
"So it's certainly kept it going, and it's nice that we don't wear it all out. It's still quite fresh even though it's a few years old now."
And who can argue with that?
See more:
Steven Moffat: 'Sherlock' Fans are "Fantastic Keepers of Secrets"
Steven Moffat Hails Record-Breaking Gathering of Sherlocks
Steven Moffat on 'Sherlock': "Our Plan is Devastating"
Steven Moffat on 'Doctor Who' Season 8
Read More
Filed Under: