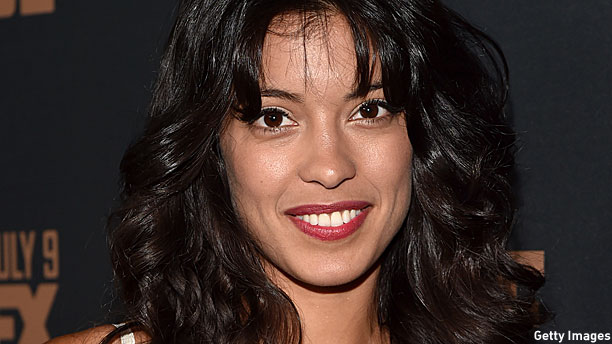 It seems faintly odd, in the mid-twentytenties, to still be referring to actresses taking on a part in a well-loved movie franchise as Bond girls, but what other term would fit the bill? Love interests implies perhaps a deeper romantic bond (pun intended) than the women in the franchise tend to normally get, and actress women is perhaps a little too clinical.
So, here's the Mexican actress Stephanie Sigman—star of Pioneer and Miss Bala, and the U.S. remake of The Bridge—who was recently revealed to be playing the part of Estrella in Spectre, the latest in the James Bond franchise:
We are pleased to announce that @SigmanStephanie has joined the cast of #SPECTRE as Estrella pic.twitter.com/63ibzmlFFz

— James Bond (@007) March 9, 2015
She is also the all-cooking, all-swimming star of video for the Arctic Monkeys single "Snap Out of It," in case you can't place the face:
Director Sam Mendes recently put up a backstage vlog describing how the movie links two stories, Bond's childhood as an orphan and his mission to find someone—helped by Moneypenny (Naomi Harris), M (Ralph Fiennes) and Q (Ben Whishaw), which he follows from the beginning of the movie to the end:
Watch Director Sam Mendes discuss #SPECTRE in new behind-the-scenes footage #BTS https://t.co/iUMdDlLc7w

— James Bond (@007) February 26, 2015
See more:
WATCH: 'Vicar of Dibley', 'Little Britain' and James Bond Turn Out for Comic Relief
First Look: Behind The Scenes at the New James Bond 'Spectre'
James Bond 24 is Officially 'Spectre'
'Fleming' Personality Quiz: Which James Bond Are You?
Read More
Filed Under: