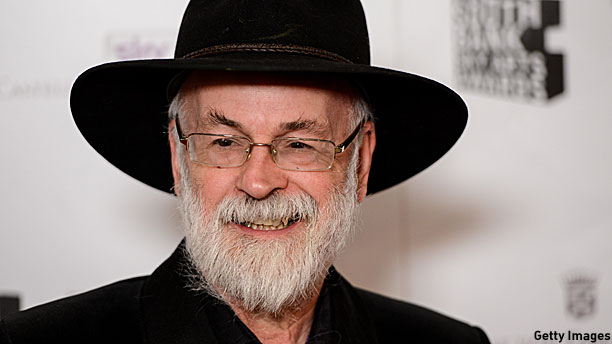 The following messages appeared on the official Twitter feed for the British author Sir Terry Pratchett earlier today (March 12), announcing his death at the age of 66, and for fans of his work, it's as much of an appropriate announcement of a terrible event as one could hope for.
It starts with a message from Death, one of his most enduring and beloved characters, to Terry himself:
AT LAST, SIR TERRY, WE MUST WALK TOGETHER.

— Terry Pratchett (@terryandrob) March 12, 2015
And then…
Terry took Death's arm and followed him through the doors and on to the black desert under the endless night.

— Terry Pratchett (@terryandrob) March 12, 2015
Best known for his hugely funny Discworld novels—a series of 40 fantasy stories that took the wry wit and imagination of Douglas Adams and applied it to the worlds of magic, dragons, wizards and witches. He was famous for finishing an average of two manuscripts per year to a worldwide audience—his books were translated into nearly 40 different languages—who would have been happy with twice or four times that amount.
He was the 1990s biggest selling U.K. author, having sold over 85 million books worldwide, the second most-read writer in Britain and the seventh most-read non-American writer in the U.S.
For his services to literature, Terry received a knighthood in 2009, having already won the 2001 Carnegie Medal for his book The Amazing Maurice and his Educated Rodents. He later drily noted: "I suspect the 'services to literature' consisted of refraining from trying to write any. Still, I cannot help feeling mightily chuffed about it."
Having revealed that he was afflicted with early-onset Alzheimer's disease in 2007, Terry began campaigning and fund-raising for Alzheimer's research. As a part of this, he presented a hugely moving BBC documentary called Terry Pratchett: Choosing to Die which explored the issues around assisted suicide for people with terminal illnesses. It went on to win the Best Documentary award at the Scottish BAFTAs.
Even through the worst of the physical debilitations of his condition (which he referred to as an "embuggerance"), Terry continued to work, dictating new books and continuing to exercise that fine imagination and wit for as long as he could. His last book was completed in summer 2014. His publisher confirmed today that he had died from complications related to his Alzheimers.
One last detail: Terry was granted an official coat of arms by Letters Patent of Garter, and Clarenceux King of Arms. Its Latin motto, fittingly, is Noli Timere Messorem — Don't Fear the Reaper.
UPDATE: Neil Gaiman, Terry's partner on the wonderful Good Omens and lifelong friend, paid tribute on Twitter:
I will miss you, Terry, so much. This is the last thing I wrote about you. http://t.co/YKAFrKjkLc

— Neil Gaiman (@neilhimself) March 12, 2015
He was my friend for thirty years and a month. I miss him. Donate to Alzheimer's research and make it so things like this don't happen.

— Neil Gaiman (@neilhimself) March 12, 2015
See more:
LISTEN: Terry Pratchett and Neil Gaiman's 'Good Omens', In Full
Poll Results! 10 Greatest British Sci-Fi/Fantasy Novelists
Neil Gaiman: "There Are No Bad Authors For Children"
Read More
Filed Under: