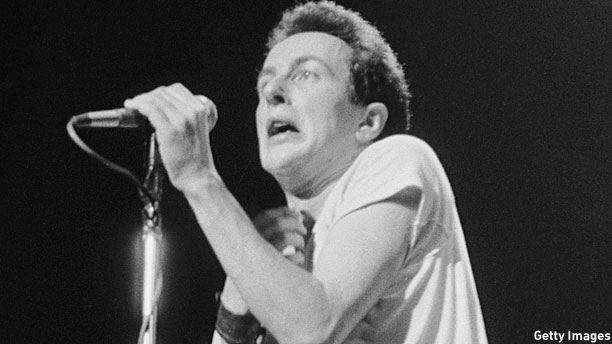 For as long as people keep making up these curious national days, we'll keep honoring them the best way we can. So, in the case of National Joe Day—a very real thing that, according to eHow, derives from the old Scottish slang habit of affectionately calling someone joe or jo in the same way you might say sweetheart—it's just a matter of getting all of our Joes in a row. Musical ones, as it's a Friday.
So that is exactly what we have done, starting with a punk and ending with an original rocker:
Joe Strummer
As lead singer of The Clash, Joe (born Joseph Mellor) was at the head of two armies, those working class kids caught up in the punk rock revolution who wanted their rock stars to remain at street level, and the followers of classic rock that wanted their rock stars to be larger-than-life, mythic, and capable of acts of musical transcendence. Astonishingly, he managed to please both camps, not only setting a high bar for subsequent would-be punk rebels to flop over, but leaving a legacy of legendarily high-octane rock for classicists to discuss in hushed tones for ever more.
Joe Cocker
If you or I tried a vocal performance of this kind, you could reasonably expect to discover, just after the first high note of the chorus, to be wearing a tonsil as a lapel ornament. The late, great Joe Cocker may have looked as if singing was an exaggerated form of physical spasm, but his insides remained inside while delivering paint-stripping performances like this and his celebrated blowtorching of The Beatles' "A Little Help From My Friends." And that is no mean feat.
Joe Meek
A difficult figure to wholly celebrate, Joe Meek was an electronics genius who set up a recording studio in a flat in London's Holloway Road in the very early '60s, and proceeded to craft startling sonic confections from there, including "Telstar," the 1962 single that got to No.1 in America before anyone had even heard of British pop music. After struggling with mental illness and having been beaten up and blackmailed as a result of his homosexuality, Joe became harder and harder to work with. And in 1967, during an argument with his landlady Violet Shenton, he pulled a gun and shot her, and then turned it on himself.
One of the nation's most trusted broadcasting voices in the field of new music, whether on BBC Radio 1 or her current home on BBC Radio 2, Jo (a confirmed Whovian, by the way) was also directly responsible for booking some of the most exciting bands for the early '90s trash TV show The Word. These included a live performance by Nirvana that was prefaced by Kurt Cobain declaring that Courtney Love "of the sensational pop band Hole" was very good in bed (he used franker language than that), and the notorious appearance by L7 during which Donita Sparks pulled down her shorts and underwear and tottered around on stage naked from the waist down. This is the relatively sedate first TV appearance by Oasis.
Joe Brown
Joe was another one of British rock's first wave, before the Beatles, before The Rolling Stones. He was part of an attempt by London record labels to harness the spiraling success of American rock 'n' roll imports in the late '50s and early '60s. But Joe wasn't your average rock 'n' roll bandwagon-jumper. A true player, he inspired a good many of the British Invasion guitarists, reportedly encouraging them to use unwound G strings on their guitars to facilitate soloing. A good friend of George Harrison's, it was Joe that closed the 2002 tribute show for his old friend, with a beautiful rendition of the evergreen "I'll See You In My Dreams."
See more:
RIP Joe Cocker: Singer of "With a Little Help from My Friends" Dies at 70
#newtoWHO: Author Joe Nazzaro on His First 'Doctor Who' Experience
WATCH: "We're Like Siblings Really" Says Director Joe Wright on Keira Knightley
WATCH: Joely Richardson Shares Regal Role with Legendary Mother
Read More
Filed Under: