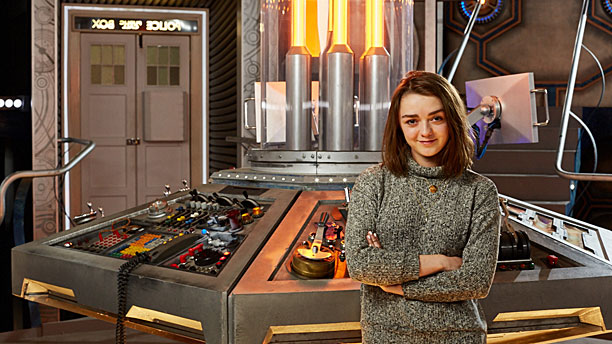 This is an altogether more futuristic set than Maisie Williams is normally used to from Game of Thrones, although if anyone has experience of dealing with huge scary monsters, it's the direwolf-befriending Arya Stark.
Maisie joins the Who cast for a guest role in Season Nine, which will hit TV screens this fall.
In an interview she gave on her first day on set, she said: "I'm so excited to be working on Doctor Who as it's such a big and important part of British culture. I can't wait to meet the cast and crew and start filming, especially as we'll be shooting not too far from my home town."
Although no one is revealing too much about her role, or the story of which she's a part. All Steven Moffat will say is that she is not going to be giving the Doctor an easy ride:
"We're thrilled to have Maisie Williams joining us on Doctor Who. It's not possible to say too much about who or what she's playing, but she is going to challenge the Doctor in very unexpected ways.
"This time he might just be out of his depth, and we know Maisie is going to give him exactly the right sort of hell."
It's also been confirmed that, as well as the two-part season opener "The Magician's Apprentice" / "The Witch's Familiar" there will be two stories set in the past: "The Girl Who Died" written by Jamie Mathieson and Steven Moffat, and "The Woman Who Lived" by Catherine Tregenna.
And the current cast list now includes the British comedian and actor Rufus Hound. He takes his place alongside Tom Stourton, Ariyon Bakare, Simon Lipkin, Ian Conningham, Murray McArthur, Barnaby Kay, John Voce, and Struan Rodger.
See more:
Radio Times Collects Birthday Cards for 'Doctor Who'
10 Years After the Rebirth of 'Doctor Who'
'Doctor Who's Day Roundup: A Decade of Doctors
Our Favorite Companion Moments from Modern 'Doctor Who'
Read More
Filed Under: