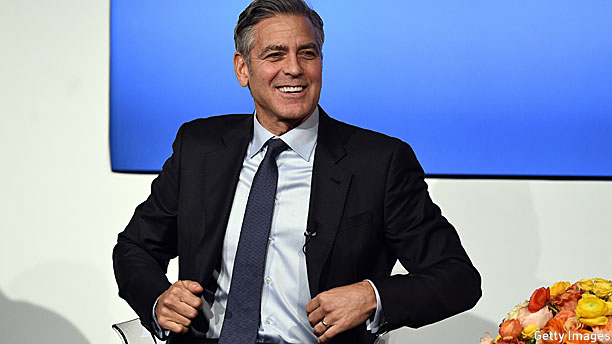 Or, to be entirely accurate, go to Scotland in November.
Social Bite is a chain of non-profit sandwich cafés in Edinburgh and Glasgow that donates all proceeds to charity, and encourages customers to donate food and drink to local homeless people. It was set up by the enterprizing Josh Littlejohn, and just under half of the staff have direct experience of being homeless themselves.
On November 12, George Clooney will be attending a special private dinner in Edinburgh, with around 10 other people and an empty chair. That chair will be filled by someone who has contributed £5 to an online competition, the proceeds from which will partly go to buying a hot drink for someone on the streets—the cafe runs a 'suspended coffee' fund to offer free drinks for homeless customers—and Not On Our Watch, the charity George set up with Matt Damon, Don Cheadle and Brad Pitt.
Josh told BBC News: "It's a fantastic honor to be bringing one of the world's most famous men to Scotland and it is amazing that he is supporting Social Bite.
"He'll be visiting a Social Bite cafe to meet our staff and customers as well as sample the food while here, and who knows, he may even join the team and lend a helping hand behind the counter.
"For many of our team who until recently lived on the streets, this is a really amazing thing to look forward to."
Not sure if it would be worth the trip to Edinburgh on the off-chance your name will come up, but if you're in the neighborhood, who knows who you may end up sharing a bite with.
See more:
WATCH: Hugh Laurie and George Clooney in 'Tomorrowland'
WATCH: First Look at George Clooney in 'Downton Abbey'
The Brit List: Interview with George Clooney on the BAFTA Red Carpet
Mrs. Clooney's Wedding Dress Top Request, Plus Five Other British Bridal Looks
Read More
Filed Under: