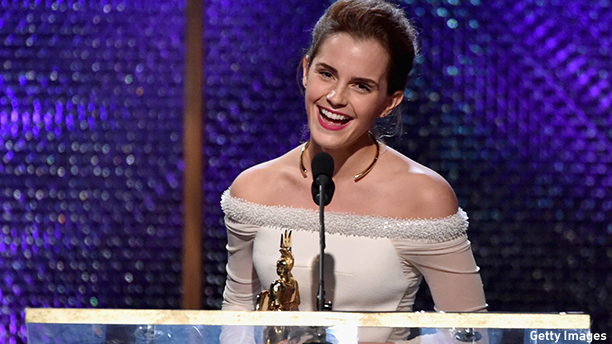 There's a nice interview with Emma Watson in the latest issue of Total Film magazine, in which she describes the challenges involved in taking on the role of Belle in Disney's live-action remake of Beauty and the Beast (alongside Downton Abbey's Dan Stevens).
And one aspect of performing in particular is giving her the collywobbles.
She explained: "I sing, so that's really unexpected. I've never had to do that for a film role before, and I think people will be interested to see me do something very different like that."
Which does seem a fair assessment of the situation, really, although it's not the seeing we're most interested in, it's the hearing.
She continued: "It gives me a different challenge, really. That's terrifying in and of itself!"
There's also a very interesting moment in which she reveals why she's taking on an executive producer role in another movie based on a fantasy book series, after making her name in the Harry Potter movies. She is set to star in David Heyman's (Harry Potter producer) adaptation of Erika Johansen's The Queen of the Tearling, and because it's not a million miles away from her movie alma mater, she's using it as an opportunity to learn a few new tricks:
"For me, to want to sign up to a series again, I wanted to have a certain amount of autonomy and control within that.
"Working with David's been great. I'd love to direct something one day. I'd love to produce as well, so it's quite a nice way to start learning about that. Yeah, just dipping my toes into that world.
Speaking of her step up to leading lady status, she said: "It feels like I was building a portfolio over the last five, six years. Now I feel like I'm ready to really be carrying films. I'm really just ready now to focus on my career full time and go full steam ahead. It's exciting at the moment."
See more:
How Emma Watson Spent International Women's Day
WATCH: Emma Watson Recalls a Terrifying Night in 'Regression' Trailer
WATCH: Emma Watson Dedicates Britannia Award to Unlikely Supporter
Emma Watson, the 'Belle' of the Ball
Read More
Filed Under: