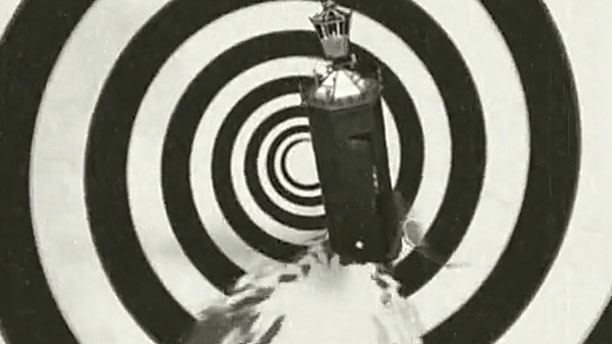 Before we get started looking at the past week in Doctor Who, let's go on a journey to the distant past. No, not prehistoric times, I'm talking about a time before there was an actual Doctor Who to watch. What did people do to entertain themselves without tales of Time Lords and TARDISes? And, actually, what would Doctor Who have been like if it was made in the earliest eras of filmed entertainment?
Well, thanks to Vimeo user Nereusmedia, we don't have to wonder about that latter thing too much. He has made two clips showing the Season Nine credit sequence as it might have looked if it was made in the past.
First, a week or so ago, there was this 1936 to 1957 version, with eccentric clockwork and a slightly out-of-breath version of the theme tune:
And then, the absolute best thing of the week. Doctor Who credits as if from 1899, complete with piano accompaniment:
Steampunk Doctor Who? Imagining Doctor Who as a Silent Movie from 1899 (Series 9 Alternate Title Sequence) from nereusmedia on Vimeo.
Here's what else has been going on in space and time this week:
• While we're on people making stuff, this is a painstaking recreation of the Eleventh Doctor's console room in the TARDIS, made in Lego:
It was created by Thorsten Bonsch, and it took him three years (only some of which was spent playing).
• After last week's Intergalactic Women's Day tweets, the Doctor Who Twitter feed reminded everyone in the U.K. why Mothering Sunday matters…
#mothersday #DoctorWho pic.twitter.com/y7rkJWRbyR

— Doctor Who Official (@bbcdoctorwho) March 15, 2015
…and then gave them the creeps…
#mothersday #DoctorWho pic.twitter.com/zsSIXCIhT7

— Doctor Who Official (@bbcdoctorwho) March 15, 2015
• The BBC's Red Nose Day telethon sent Peter Capaldi to Malawi to see the work tackling malaria that Comic Relief funds out there.
Peter Capaldi is on @BBCOne #RND15 tonight and please read his Africa Diary at http://t.co/bwDGH9BGgf pic.twitter.com/FhugMG66gZ

— Doctor Who Official (@bbcdoctorwho) March 13, 2015
There's a video here, as shown on the night:
UK ONLY: To support @comicrelief & donate £10 text YES to 70010.Costs £10 +std msg rate.T&Cs http://t.co/OyFWix1TmI https://t.co/wAmydA68AP

— Red Nose Day (@rednoseday) March 14, 2015
Peter wasn't the only Doctor taking part in this year's event either. Here's David Tennant's message of gratitude to everyone who has donated in the past:
• David also appeared at Wizard's World Comic Con over the weekend, and said this about the relationship between Ten and his first companion: "Rose was a girlfriend, even if they didn't say it."
• Titan Comics have released a trailer for the Ninth Doctor comic adventure "Weapons of Past Destruction", and it is here:
• An interview with Steven Moffat in which he says this about Michelle Gomez as Missy: "Michelle was such a hit. And that was such a big thing to do, almost a tricky thing to say 'are people going to go for this beloved yet hated character when we change the gender?'
"But they didn't blink, they're perfectly happy."
• Sculptor Matt Buckley made this Cyber-head for the BBC Shop:
• Radio Times pulled together a list of actors who've appeared in the Whoniverse and the Marvel Universe, from Jenna Coleman to Karen Gillan.
• Karen Gillan is concerned that a sequel to Guardians of the Galaxy would require another severe haircut.
• Oh and if you think the Doctor would let Pi Day pass without paying his own tribute, you're mistaken:
The Doctor's left a pie out in honour of #PiDay #DoctorWho #TARDIS pic.twitter.com/njDUFGKaYD

— Doctor Who Official (@bbcdoctorwho) March 14, 2015
• Let's end as we began, reimagining the past. Astonishing YouTube talent John Smith put up a clip in which he has colorized the classic speech the First Doctor gives when saying goodbye to his granddaughter Susan, at the end of "The Dalek Invasion of Earth:"
TTFN!
Read More
Filed Under: