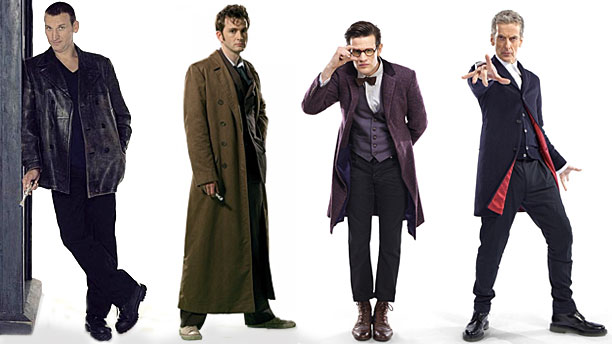 It seems strange to look back on a time, just 10 years ago, when Doctor Who was not the universe-straddling cultural juggernaut that it is now. It was an enormously beloved classic TV show with some fantastically fertile ideas, but no one could have predicted that a relaunched version—one that picked up where the old series had left off and kept all of the best bits, adding new ones along the way—would take off in quite the way that it has. And yet, from the moment in March 2005 when Christopher Eccleston told Billie Piper to "Run!" the universe hasn't been quite the same.
So, all this week Doctor Who fans get to celebrate 10 years of an unpredictable and startling victory, of the kind that the Doctor himself would be pleased with.
Tributes have been coming in from all corners of the web. We compiled a list of our favorite companion moments, our favorite monsters from new Who, and our favorite Doctor performances.
• Metro counted down their own favorite ten episodes from modern Who, including this write-up of Matt Smith's first story "The Eleventh Hour."
• Digital Spy pulled together a list of everyone involved in the 2005 launch and found out what they're up to these days.
• Radio Times chimed in with Matt Smith's best moments as the Doctor, David Tennant's best moments as the Doctor, Jenna Coleman's best moments as Clara, Billie Piper's best moments as Rose Tyler, John Barrowman's best moments as Captain Jack Harkness, Catherine Tate's best moments as Donna Noble, Freema Agyeman's best moments as Martha Jones and Arthur Darvill's best moments as Rory (Pond) Williams. And it's only Tuesday.
• And they hosted a reader's poll to find the fans' favorite episode of the modern Who era.
• They also dug out an interview with Christopher Eccleston from 2005, in which he discusses playing the Doctor, and why he particularly liked his leather coat.
• And there's an official image to commemorate 10 glorious years:
Let's see what happens next!
And in the meantime, here's what else is going on in space and time this week:
• This can only be good news:
Ready to go! The read through for Episode 5 gets under way. #DoctorWho pic.twitter.com/7q7mrrrPVN

— Doctor Who Official (@bbcdoctorwho) March 19, 2015
• Danny Hargreaves blows up a Cyberhead (it's not Handles) for science week: • The script for the Fourth Doctor story "City of Death"—written by Douglas Adams, who also wrote of The Hitchhiker's Guide To The Galaxy and was a Doctor Who script editor—is set to be turned into a novel, by the writer James Goss. • The Doctor and five of his old console rooms, from the Doctor Who Experience: https://youtu.be/IuZMXbkp5WM • Feeling peckish? How about a chocolate bar. It's only 3p!
Nestle #DoctorWho chocolate bar wrapper from the early 1970s pic.twitter.com/a0KARhtS2i — Scaroth (@CountScaroth) March 22, 2015
• Mark Gatiss confirms he's writing a script for Season Nine.
• And what is Who's Day without a little fan art? Check who did it though:
Artwork from Russell T Davies – The Tenth Doctor and Captain Jack #DoctorWho #DavidTennant pic.twitter.com/cXBKof6JyK

— Blogtor Who (@BlogtorWho) March 22, 2015
• Doctor Who's Michael Pickwoad on engineering a TARDIS:
NEW VIDEO: Production Designer, Michael Pickwoad , explains how to engineer a TARDIS! http://t.co/mruO8ch2cu #BSW15 — Doctor Who Official (@bbcdoctorwho) March 20, 2015
• Armando Iannucci, creator of The Thick of It, Veep, Alan Partridge and many other comedy astonishments, says he would love to write an episode of Doctor Who for his old friend Peter Capaldi.
• A trailer for the Tenth Doctor comic book series "Revolutions of Terror":
• And finally, a nugget of delight from Toronto Comic-Con. What kind of adventure would the Doctor and Amy embark on if Karen Gillan had the chance to pitch her best idea? Something like this:
TTFN!
Read More
Filed Under: