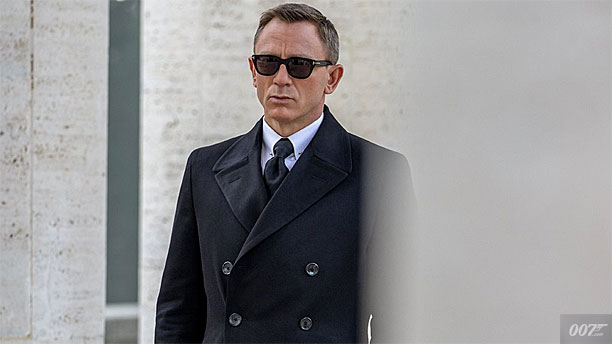 At the end of last week, a teaser trailer for the new James Bond movie Spectre was released, one that suggests that the film not only continues where Skyfall left off, but also offers a shadowy hint as to who exactly he'll be doing battle with this time around.
But if you imagine that anyone is going to give out any more clues that are available here for the time being, you're sadly mistaken.
Daniel Craig was interviewed on the ITV show Lorraine, and his response to a query about people pumping him for spoilers suggests that he'd rather no one knew anything until they're sitting in the theater, watching the (undoubtedly stunt-filled) pre-credits sequence:
"It's become a joke. People want to ask me what the plot is about and I'm like, 'I can't answer the question'.
"It's like when a magician does a trick, it's like, 'I'm not going to show you how it works.'
"I like that, keeping it a bit sacred. Y'know, wait and see until the movie comes out."
He does, however, credit Sam Mendes for changing the emphasis within the Bond franchise with Skyfall: "What happened in the last movie was a big kick, bringing Sam in and we took the movie in a different direction. We kind of created a language that was different from the other two, but that was faithful to Bond [but] that was kind of new."
But we do have a little information about that opening sequence in particular. Look away now if you'd rather keep the magic alive.
Empire interviewed Bond's producer Michael G Wilson, who promises "the biggest opening sequence we've ever done, maybe the biggest sequence we've ever done.
"The whole vision that Sam Mendes has come up with is very exciting and amazing. We've got 1500 extras in Day Of The Dead costumes and make up and we've occupied the centre of Mexico City for days. The only thing that's come close to it was putting on the carnival in Rio in Moonraker, and I think this is a much bigger operation."
See more:
First Look: Daniel Craig as James Bond in 'Spectre' Poster
Say Hello to Stephanie Sigman, James Bond's Latest Flame
First Look: Behind The Scenes at the New James Bond 'Spectre'
WATCH: 'Vicar of Dibley', 'Little Britain' and James Bond Turn Out for Comic Relief
Read More
Filed Under: