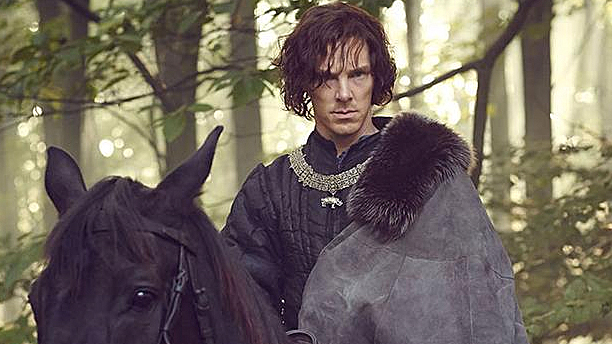 This Thursday (March 26), the remains of the English king Richard III will be reburied in Leicester cathedral. His bones had been discovered by contractors digging out a car park in Leicester in 2012, and having been examined and his DNA tested to be sure of their provenance, they will now be ceremonially buried.
During the ceremony, in a strange showbiz quirk of fate, Benedict Cumberbatch will read a poem, specially written for the occasion by the Poet Laureate, Carol Ann Duffy.
Which places him in an odd situation, given that he has been spending his time recently playing Shakespeare's version of Richard in the second part of the BBC's The Hollow Crown. This is the most famous and lasting account of the events surrounding his reign, and one that that makes the king look like a vicious scheming rotter and child murderer to boot. Who better to pay tribute?
Mind you, he is family. Genealogists working with the DNA samples from the body have found a surprisingly close link to Benedict's family, given that Richard was born in 1452. They are second cousins, apparently, and only 16 times removed.
Carol's poem is entitled "Richard," and will focus more on what the finding of his body means to his historical legacy in the modern age than any attempt to right Shakespeare's interpretation. One line has been revealed, "grant me the carving of my name," which is apt considering the lack of a headstone or even a known grave until now.
She told the King Richard in Leicester site: "It is a privilege to be involved, in a small way, in this unique event and to have seen the style and grace with which the city of Leicester has made history alive."
The Dean of Leicester, the Very Revd David Monteith, added: "King Richard III's story has been very significant in our cultural and artistic life for centuries. Now the cream of writers and performers from our day help us to see our history and indeed ourselves in a new light with flair and imagination."
See more:
First Look at Benedict Cumberbatch as Richard III
Five Great British Interpretations Of Shakespeare's 'Richard III'
WATCH: Martin Freeman on the Wit and Humor in Richard III
Richard III's Remains Found: How Shakespearean Deaths Match with Reality
Read More
Filed Under: