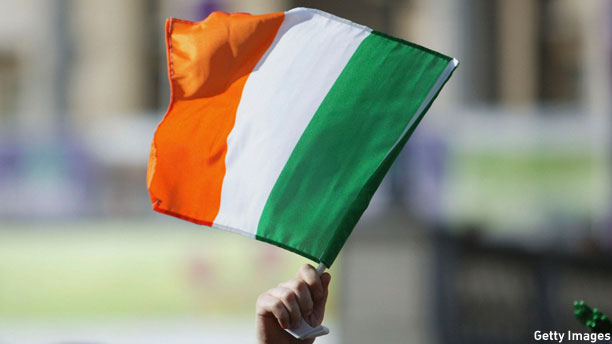 This week, the rivers of major cities all over the world will run green, the bars will be filled with people wearing fake beards, green top hats and sunglasses fashioned into the shape of twin four-leaved clovers, and there will be much talk of blarney, of begorrah and of craic.
So, as our own contribution to the festivities, why not take a look at some of the less well-known idioms and sayings that the Irish nation has given the world? There's a lot of wisdom here—some of it clearly learned the hard way—and if nothing else, you'll come away with a couple of good put-downs and an arsenal of good toasts to try out the next time glasses are raised and clinked in your general direction:
• May you have the hindsight to know where you've been, the foresight to know where you are going, and the insight to know when you have gone too far.
• You've got to do your own growing, no matter how tall your father was.
• It is often that a person's mouth broke his nose.
• May the roof above you never fall in and those gathered beneath it never fall out.
• Lose an hour in the morning, and you'll be looking for it all day.
• (When a friend can't change a stubborn person's mind) You might as well be whistling jigs to a milestone.
• Honey is sweet, but don't lick it off a briar.
• If you buy what you don't need, you might have to sell what you do.
• Forgetting a debt doesn't mean it's paid.
• It is better to spend money like there's no tomorrow than to spend tonight like there's no money.
• (To be said of someone who is unhelpful) She's fit to mind mice at a crossroads.
• It's easy to halve the potato where there's love.
• Where the tongue slips, it speaks the truth.
• A good laugh and a long sleep are the two best cures.
• You'll never plow a field by turning it over in your mind.
• (To be said of someone who outstays their welcome) If that man went to a wedding, he'd stay for the christening.
• Drink is the curse of the land. It makes you fight with your neighbor. It makes you shoot at your landlord—and it makes you miss him.
• If you want to know what God thinks of money, just look at who He gives it to!
• No man ever wore a scarf as warm as his daughter's arm around his neck.
• A family of Irish birth will argue and fight, but let a shout come from without, and see them all unite.
• (To be said of an unfortunate friend) She is always in the field when luck is on the road.
• There is no luck except where there is discipline.
• In every land, hardness is in the north of it, softness in the south, industry in the east, and fire and inspiration in the west.
• (To be said of someone who is very organized) If he's not fishing, he's mending his nets.
• Here's to a long life and a merry one. A quick death and an easy one. A pretty girl and an honest one. A cold pint and another one!
Sources: Ask Men, Island Ireland, Ireland Central.
See more:
St. Patrick's Day: 10 Irish Slang Terms Americans Should Adopt
25 Welsh Sayings To Live By
25 Scottish Sayings That Will Get You Through Life
Fraser's Phrases: Five British Sayings to Live By
Read More
Filed Under: