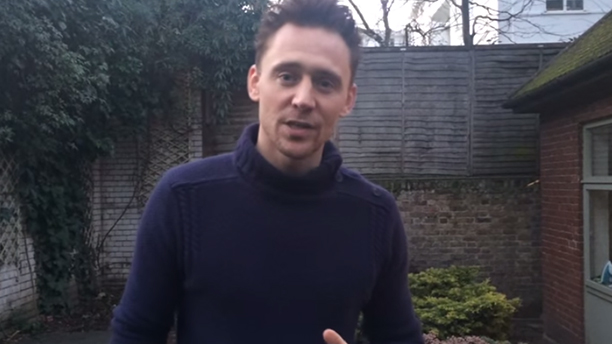 Tom Hiddleston is at it again; helping the world one cute video at a time. And, of course, we love it.
The Thor actor was nominated by fellow British actor Damian Lewis to take part in a charity challenge that brings awareness and fundraising to the skin disorder Epidermolysis Bullosa. Lewis's friend suffers from the condition, making the challenge close to his heart.
Hiddleston starts off the challenge by introducing himself in the below video. We know who you are Tom, but, he's right, there's the chance that someone out there might not. He explains that he's responding, "a thousand years late to Damian's challenge," but it's better late than never.
The challenge is for Hiddleston to give a tongue twister, and if he messes up, he then makes a donation.
Here he goes:
If you didn't quite get what he was saying, here's the tongue twister written out:
Dick had a dog, the dog dug, the dog dug deep, how deep did Dick's dog dig? Dick had a duck, the duck dived, the duck dived deep, how deep did Dick's duck dive? Dick's duck dived as deep as Dick's dog dug!
Hiddleston has now challenged Charlie Hunnam (Sons of Anarchy), Dominic West (The Affair), and Gemma Arterton (Tamara Drewe). We'll have to keep an eye out for the results of their challenges.
How did he do?!
See More: 
WATCH: Tom Hiddleston Sends Out a Christmas Wish in Song
WATCH: Benedict's Tom Hiddleston Impersonation
WATCH: 17 British Celebs Starring on 'Sesame Street'
Read More
Filed Under: