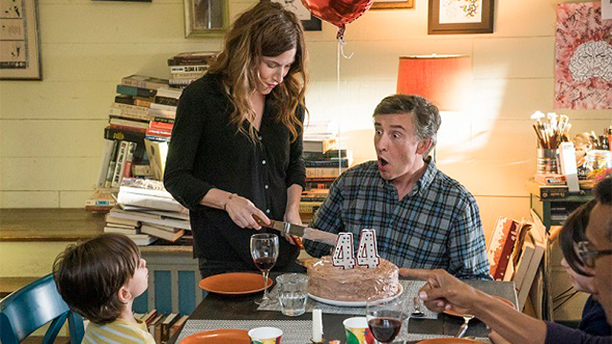 Is it possible that there is a limit on personal happiness?
Steve Coogan (The Trip, Philomena) explores this theory in the new Showtime series Happyish. He plays a 44-year-old man whose life is thrown off-kilter when he gets a new whippersnapper of a boss, almost half his age, and he finds himself feeling invisible.
In the trailer for the series, he complains to his friend that he could be happier, and his friend (Ellen Barkin) alarmingly points out that he may have already "maxed out."
He talks to his wife (Kathryn Hahn) about other concerns like Viagra canceling out his Prozac in the below clip. He contemplates whether he'd rather enjoy a drug-induced happiness thanks to the Prozac, but be unable to perform in the bedroom; or, the reverse, miserable and a sex machine.
His wife has a say on the matter, which you can watch below:
Philip Seymour Hoffman was originally slated to take on the lead role in Happyish. After Hoffman's tragic death, Showtime decided to move forward with the project.
Happyish kicks off on Sunday, April 26th at 9:30 p.m. ET/PT.
Do you think this looks funnyish? (We do!) 
See More:
WATCH: Steve Coogan Stars in 'Northern Soul' Trailer
WATCH: Steve Coogan is Just as Keen on Screenwriting as Acting
Steve Coogan, Rob Brydon Reunite for Another 'Trip' at Sundance
Read More
Filed Under: