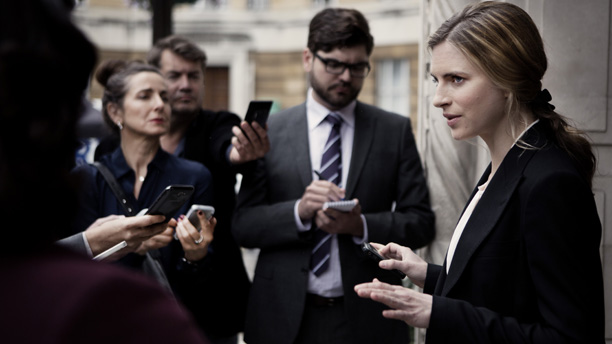 The fish-out-of-water dramedy Babylon, which follows an American PR maven hired at a British police department, comes to a head in the season finale, airing on Thursday, February 12 at 10/9c on SundanceTV.
A press conference is called to address a violent police act, which has caused public unrest in London. Liz Garvey (Brit Marling), the American PR recruit, has to act quickly when the press starts throwing hard-hitting questions, as seen in the below clip:
Elsewhere, Assistant Commissioners Charles Inglis (Paterson Joseph) and Sharon Franklin (Nicola Walker) are both vying for Commissioner Miller's (James Nesbitt) job.
If you're wondering why his job is up for grabs, and you need some speeding up, you can watch full episodes at SundanceTV through March 14.
What do you think of the season so far? 
See More:
SundanceTV Confirms Danny Boyle's TV Show 'Babylon'
SundanceTV Kicks Off 'Babylon' with Online Insult Translator
WATCH: Bomb Threat Hits 'Babylon' in Episode Three
Read More
Filed Under: