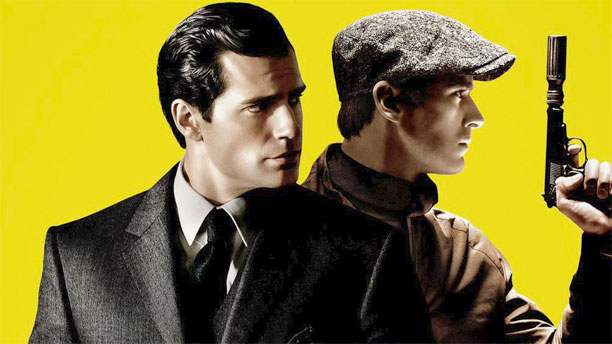 Guy Ritchie must be spitting feathers right now. His last two movies were part of a hugely successful reimagining of the stories of Sherlock Holmes that happened to coincide with a world-beating TV adaptation by Steven Moffat and Mark Gatiss. He has had to watch as Benedict Cumberbatch has come define the modern Holmes, despite having brought in Robert Downey Jnr. as the haughty detective and set his tales in Victorian London, as Sir Arthur Conan Doyle first intended.
Now he's got a new movie ready to go—a reworking of the James Bond-ish spies and espionage TV show The Man From U.N.C.L.E.—starring Henry Cavill and Armie Hammer as CIA agent Napoleon Solo and the KGB's Ilya Kuryakin respectively, and what happens? The producers of the new James Bond movie Spectre release their first behind the scenes footage AND a new photo of Daniel Craig in action. And the similarly high-octane and Bond-ish Kingsman: The Secret Service—starring Colin Firth—is already in theaters. Gutting.
Shame, cos actually The Man From U.N.C.L.E. looks pretty good and could easily be a companion to all of these other movies.
Here's the trailer. Keep an eye out for Hugh Grant:
In fact, the only crumb of comfort for Guy is that The Man From U.N.C.L.E. is due out in August while Spectre is slated for a November release. So at least there's a little breathing space.
See more:
First Look: Henry Cavill in Guy Ritchie's 'The Man From U.N.C.L.E.'
It's Official: Henry Cavill Is Sexier Than Benedict, Tom, Robert…
WATCH: 'Man of Steel' Henry Cavill on Brits Playing U.S. Superheroes
Seeing Henry Cavill in 'The Cold Light of Day'
Read More
Filed Under: