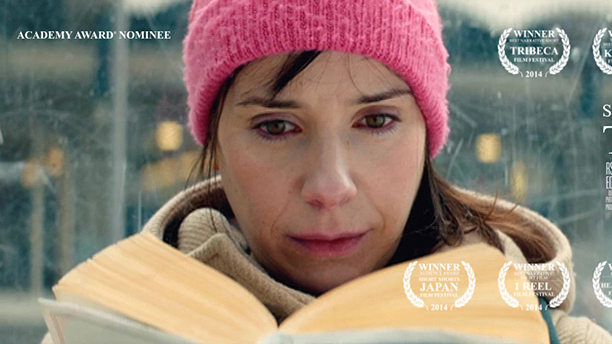 We're very pleased for Eddie Redmayne taking home the top Oscar at last night's Academy Awards for Best Actor in The Theory of Everything, but he wasn't the only Brit to walk away honored.
Oscar-nominated Sally Hawkins and Oscar-winning Jim Broadbent star in British co-writers Matt Kirkby and James Lucas' short film The Phone Call, which won an Oscar for Live-Action Short at last night's Academy Awards.
The first-time Oscar winners were a little gobsmacked by the win, but went in armed with some valuable advice from Hawkins via Skype. It took them four years, one sale of a car, on no budget, with plenty of favors, to get from pen and paper to the making of the film, with Kirkby telling the L.A. Times, "And now we find ourselves here."
Kirkby who co-wrote, and directed the film, waited a year for Hawkins to be available, but he's not wasting any time resting on this win, making an announcement via the L.A. publication, saying, "So, if there are any producers out there who would like to make a feature film by an Oscar-winning short filmmaker, um …"
His partner in crime jumps in, "God, that sound good," says Lucas.
It does, doesn't it? An Oscar win doesn't hurt a CV. In addition to a possible career shift, Kirkby has been promised free donuts, "for good," after mentioning his local shop in Suffolk, England, Orford's Pump Street Bakery, during his acceptance speech.
We've been talking about the win, and how grateful the guys are, but what about the film itself: Hawkins portrays a woman volunteering at a telephone help-line. She receives a call from a distraught man (Broadbent) who has recently lost his wife. The film's website says this phone call will change her life forever.
You can watch the trailer for the 20-minute short below:
You can rent or buy all of the live-action Oscar nominated short films via Vimeo, Amazon Instant, or iTunes.
Now we're on the edge of our seat: How does her life change?? 
See More:
Brit Binge Watching: Mike Leigh and Terence Davies Films You Can View Online
WATCH: Warm Up with Heated British Costume Drama Scenes
Top 5 British Film Actresses of 2010 (Yep, Hawkins is on this list!)
Read More