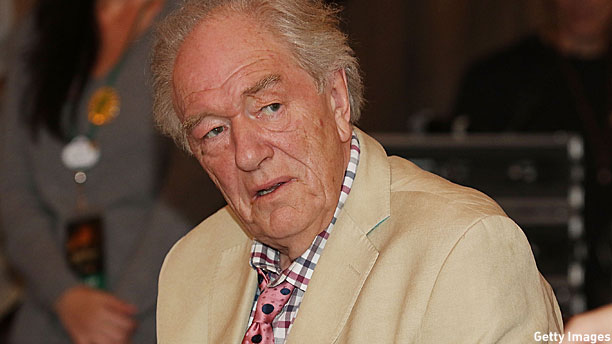 In all the BAFTA hoo-hah over the weekend this rather sad story got a little lost, but it's worth a moment's attention.
Sir Michael Gambon has had to step away from live theater work, after some 53 years on the stage, because he simply can't remember his lines any more. Sir Michael, who began his professional career with a production of Othello in Dublin at the age of 21, admits to the Mirror that he's been struggling to remember scripts for some time now, and had to make a decision about whether to continue with a prompter reading his lines into an earpiece, or give up altogether.
He explained: "There was a girl in the wings and I had a plug in my ear so she could read me the lines. After about an hour I thought, 'This can't work'. It's a horrible thing to admit but I can't do it. It breaks my heart."
It appears that his memory has become so poor he has twice investigated whether he's developing Alzheimer's but has thankfully been given the all clear both times. But he did have a bout of panic attacks while rehearsing Alan Bennett's The Habit of Art for a National Theatre production in 2009. He eventually pulled out, to be replaced by Richard Griffiths.
Thankfully his film and TV work will continue for the time being. And fans can see him next in the new adaptation of J.K. Rowling's The Casual Vacancy, which comes to HBO in April:
Still, it's always sad when a British actor leaves the stage. It's like a cricketer leaving his crease for the final time and taking the long walk back to the pavilion. No amount of tea and cucumber sandwiches will replace the thrill of being at the heart of the action.
Or what passes for action in cricket, at any rate.
See more:
Michael Gambon Joins Cast of 'Dad's Army' Movie
'Luck' Leads 'Doctor Who' Star Michael Gambon to HBO
'Harry Potter' Star Robbie Coltrane Taken to Hospital
15 TV Shows We're Looking Forward to in 2015
Read More
Filed Under: