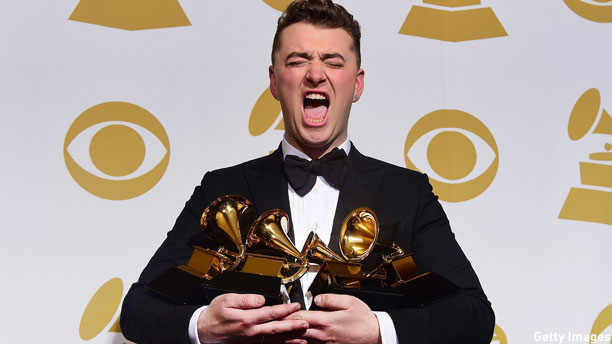 This was not a weekend of surprise awards decisions, but nor was it a weekend of unsatisfactory ones either. So while Eddie Redmayne can take great comfort in the knowledge that he definitely deserves to have won the lead actor trophy in the BAFTA Film Awards, so can Sam Smith give himself a well-deserved pat on the back for winning four Grammy awards.
Four! Out of a possible eighty-three! That's, like, 5% of all the Grammys on offer last night.
Sam won record of the year for "Stay With Me (Darkchild Version)," which naturally meant he was a shoo-in for song of the year too. And it would have been rude not to give him the best new artist trophy given that he'd also trousered the song and record awards.
Oddly he was not the recipient of the best pop vocal award, despite his voice being a fairly integral part of the appeal of "Stay With Me (Darkchild Version)." That award went to Pharrell Williams for "Happy," which was neither song of the year or record of the year. Sam did, however, win the pop vocal album category for In The Lonely Hour, a collection of songs that includes the double-Grammy-winning "Stay With Me (Darkchild Version)," so technically, Pharrell should do the decent thing and hand his trophy over too.
For Sam, as with Adele a couple of years ago, the victory is all the sweeter as the song was inspired by a breakup. He told the audience: "Just a quick one—I want to thank the man who this record is about, who I fell in love with last year. Thank you so much for breaking my heart because you got me four Grammys."
https://www.youtube.com/watch?v=0hm6-rW28x8
And this can't have been a bad moment either:
#StevieWonder congratulates @samsmithworld after his fourth GRAMMY win! #GRAMMYs pic.twitter.com/BPVbnccBGF — The GRAMMYs (@TheGRAMMYs) February 9, 2015
Sam wasn't the only British award recipient either. Cornish eccentronica boffin Aphex Twin won the dance/electronica album award for Syro, and Clean Bandit's "Rather Be" won in the dance recording category.
And there was a moment of traditional daffiness, when Beck won album of the year, rock album and engineered album (non classical) for Morning Phase, and was the subject of what can only be described as a fake mock stage invasion when Kanye West leapt up as if to make some protest or other, as he had notoriously done at the 2009 VMAs in front of Taylor Swift.
https://www.youtube.com/watch?v=8ujRH9Oku6s
Fittingly for a night so heavily dominated by one British singer, this (and the accompanying Twitter reaction to a later interview in which Kanye demanded that Beck give his award to Beyonce) turned out to be just a storm in a teacup.
The complete list of winners is available at the Grammy site.
See more:
Why You Should Care About Sam Smith
Sam Smith Dominates Brit Award Nominations
5 British Stars Overlooked By the 2015 Grammys
Adele's Grammy Moment Crashed By Well-Known Prankster
Read More
Filed Under: