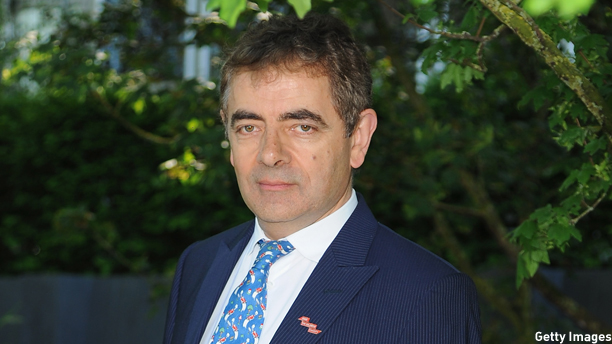 It's been a quiet couple of years for Rowan Atkinson. The Mr Bean, Blackadder and Johnny English star has been largely absent from screens large and small ever since that show-stopping appearance at the London 2012 Olympic Opening Ceremony. But that's all set to change with the announcement that he'll be starring in Maigret, a new detective drama for ITV.
Arguably second only to Sherlock Holmes in terms of longevity, the French detective Inspector Maigret appeared in 75 novels and assorted short stories, all written by Belgian author Georges Simenon, between 1931 and 1972. The character has found his way to British television on several previous occasions: firstly in the early 1960s on the BBC, where Maigret was played by Rupert Davies for four seasons; and then in two ITV productions in 1988 and 1992. These latter productions were the first example (prior to Harry Potter!) of Michael Gambon taking on a role previously played by Richard Harris, although despite airing on ITV the shows were otherwise unconnected.
The first two new Maigret films, titled Maigret Sets a Trap and Maigret's Dead Man, will be set in 1950s Paris, and go into production later this year. "I have been a devourer of the Maigret novels for many years," said Atkinson, "and I'm very much looking forward to playing such an intriguing character, at work in Paris during a fascinating period in its history." It's a rare step into drama for the actor, who has generally worked almost exclusively in comedy throughout his three-decade-plus career.
Here's Atkinson in 2011, taking part in — and doing rather well at — Top Gear's "Star in a Reasonably Priced Car" challenge:
Fans of Mr. Bean, meanwhile, will be pleased to hear that despite the character's apparent retirement at the end of 2012, Atkinson will be bringing him back for one last hurrah as part of the BBC's Comic Relief charity event next month.
See more:
The Cast of 'Four Weddings and a Funeral': Where Are They Now?
Adele, 'Blackadder' and PJ Harvey Honoured By The Queen
WATCH: Rowan Atkinson's 'Johnny English Reborn' Trailer
Read More
Filed Under: