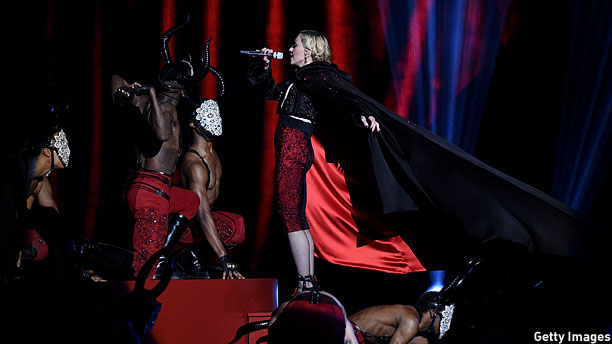 Let's just get one thing clear before we start looking at the key moments from last night's Brit Awards, nothing can possibly match the moment when Madonna, standing on a plinth and surrounded by dancers in dionysian states of ecstasy, was yanked backwards by her cape, coming a cropper three feet to the right in a bit of a heap.
It looked like this:
Frankly, no amount of worthy trophy wins for any British musicians could match such an astonishing spectacle, nor should it hope to try. Within moments, Twitter was abuzz, "Madonna" and the hashtag #NoCapes (inspired by the memorable litany of superhero deaths in the movie The Incredibles) were trending worldwide, and hats were raised to the highest possible level of glee that such an astonishing thing could have happened to an entertainer of Madonna's stature.
Luckily, she (or her social media team) saw the funny side, and were quick to issue this reassuring note on Instagram:
So, that's the collapsing pop icon elephant ushered out of the room. Everything from her onwards is going to feel anticlimactic, but we should press on, for the sake of completeness. Also, it's not the Grammys, this won't take that long.
So, we should congratulate Ed Sheeran for winning the British male solo artist trophy, and album of the year for x. His twofer was matched by Sam Smith, who took home British breakthrough act and a slightly made-up-for-the-occasion Brits global success award.
His critic's choice award went to the extravagantly-hatted James Bay, while
Paloma Faith won British female solo artist and Adele's knob-twiddler Paul Epworth won British producer of the year. Royal Blood took home British group, not bad for a band on their first album.
Mark Ronson and Bruno Mars won British single for "Uptown Funk," while One Direction were awarded the British video award for "You and I." Then it was just a case of giving Pharrell Williams the international male solo artist trophy, Taylor Swift its female equivalent and Foo Fighters the international group, and that was that for another year.
Apart from another quick gawp at that Madonna video, obviously.
See more:
Sam Smith Thanks His Ex for Grammy Wins
Sam Smith Dominates Brit Award Nominations
Ed Sheeran's First Driving Lesson, with the Stig
WATCH: Ed Sheeran and Wayne Rooney Perform 'Lego House' at Pub
Read More
Filed Under: