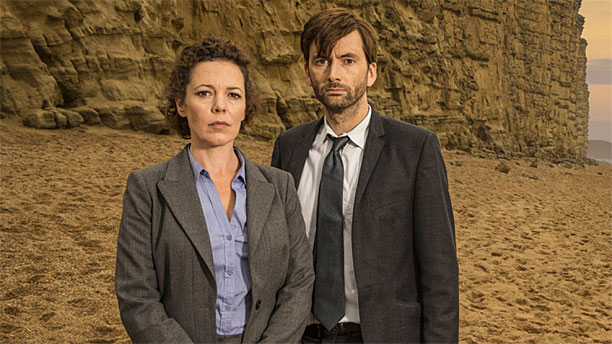 We haven't quite started the second season of Broadchurch yet—which is due on BBC America on March 4—but there's good news from ITV's press office about the prospects of a third.
(Note: don't worry, there'll be no spoilers here, but the original article may best be saved until Season Two has been and gone)
In fact they have confirmed not only that there will be another series, but also that it will once again star David Tennant and Olivia Colman as Alec Hardy and Ellie Miller. Other cast members will be confirmed at a later date.
Creator and writer Chris Chibnall said he has definite plans about where the story could go next: "We've been overwhelmed that nine million people every week have continued to join us on the twists and turns of Broadchurch. This third chapter has been a glint in my eye for a long time and I'm thrilled to be writing these characters once again."
Here's a tense moment from the first episode of Season Two, just to whet whistles (although obviously don't watch it if you haven't even started with Season One yet):
See more:
WATCH: David Tennant Narrates the 'Broadchurch' Theme
ITV Shows First Teasers For 'Broadchurch' Season 2
'Torchwood's Eve Myles Joins The Cast Of 'Broadchurch' Season Two
Longing for More 'Broadchurch'? Here are Extra Scenes
Read More
Filed Under: