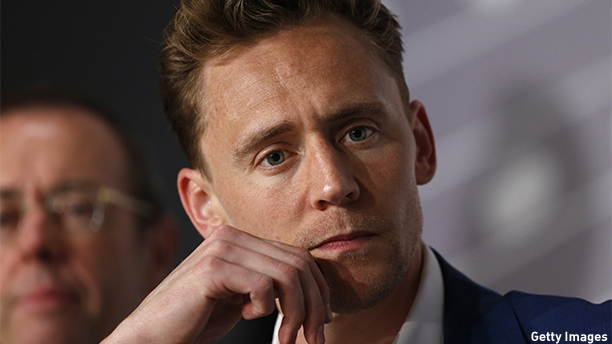 We can thank Tom Hiddleston himself for tweeting out a first look of his character in the forthcoming High-Rise film, directed by Ben Wheatley (Down Terrace).
Here's a look at the British actor as Dr. Laing riding in a high-speed elevator (lift):
Dr Laing. #HighRise pic.twitter.com/9nl41fQAVA

— Tom Hiddleston (@twhiddleston) February 6, 2015
The film is based on J.G. Ballard's 1975 novel by the same name, revolving around tenants living in a high-rise building that is self-contained, for the most part, with a school, grocery, and swimming pool.
Eventually, the tenants stop going outside, creating a society that eventually divides into a class system: lower, middle, and upper. The division is based on the floor they live on.
Luke Evans takes on the role of Richard Wilder, a former professional rugby player, who lives on the second floor, landing him in lower class. Hiddleston portrays Dr. Robert Laing, a divorcée living on the 25th floor, which sounds high, but he's considered middle class. Anthony Royal, played by Jeremy Irons, lives in the penthouse, looking down on everyone.
It sounds very Lord of the Flies, but in an urban setting.
Wheatley was feeling Twitter-happy this past summer, tweeting out some snaps from the set.
What can we tell from the High-Rise photo of Hiddleston?
See More:
Tom Hiddleston Tweets His 'High-Rise' Gang
First Look: Director Tweets 'High-Rise' Set Photos, Thriller Stars Tom Hiddleston
'High Rise' is to be True to Novel says Director Ben Wheatley
Read More