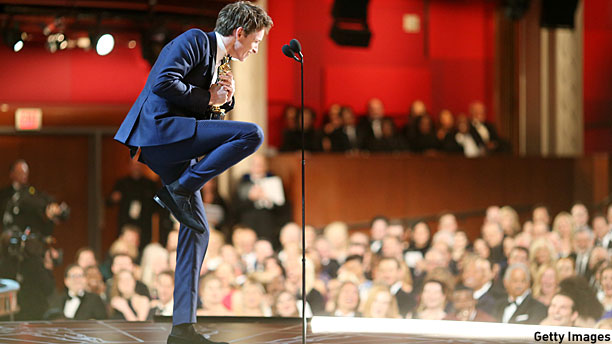 It's clearly hard to be cool when you've just won an Oscar. And it's kind of snooty to even try. But even so, Eddie Redmayne's geeky and ebullient acceptance speech—after winning the best actor trophy at last night's Academy Awards—set new standards for giddiness.
Look at him, standing on one leg and squealing just like you or I would in exactly the same circumstances! This is not someone who is unduly burdened with a need to project gravitas, even when dedicating his award to everyone battling A.L.S.
He's like a 10-year-old boy on Christmas morning who has just discovered that Santa fell asleep on the roof and there's an actual sleighful of toys waiting in the front garden and no one will mind if he helps himself.
Here's the opening salvo of a delightful speech:
https://www.youtube.com/watch?v=9xqjzz6-T_c
Continuing his theme of welcome to his new golden friend, he added: "I will be its custodian and I will promise you I will look after him. I will polish him. I will answer his beck and call. I will wait on him hand and foot.
"But I would not be here were it not for an extraordinary troupe of people. My staggering partner in crime, Felicity Jones. My ferocious and yet incredibly kind director, James Marsh. Working Title, Focus, Lisa and Anthony, Nina and my ingenious team of Dallas, Josh, Gene, Jason, Elan, Carl, Britney and Carrie and Pip.
"Now, finally, please, this is so extraordinary. I just want to thank my family and you, Hannah, my wife. I love you so much. We have a new fellow coming to share our apartment!"
By contrast, here's Eddie's BAFTA acceptance speech from a couple of weeks ago, taken at a far less hysterical pace:
Speaking of the BAFTAs, it's interesting just how many of the winners at last night's ceremony already had the one-eyed BAFTA mask on their award shelves for the same job of work. Apart from Eddie, Julianne Moore won best actress for Still Alice at both awards, J.K. Simmons (Whiplash) won best supporting actor and Patricia Arquette (Boyhood) won best supporting actress.
Citizen Four won best documentary at both ceremonies, Whiplash picked up duplicate wins for film editing and sound, and The Grand Budapest Hotel matched their previous wins for costume, makeup, production design AND score.
Even the award for best movie not in the English language went to the same picture: the Polish tale of faith and redemption Ida.
The most notable exceptions were those in which Birdman walked up and generally took over. As well as taking home the best movie trophy, Alejandro G. Iñárritu won best director, there were also awards for original screenplay and cinematography.
Elsewhere "Glory" from Selma won best original song, Big Hero 6 won animated feature, Feast won best animated short film, Interstellar won visual effects, American Sniper won the sound editing trophy, and there were awards for The Phone Call (best live action short film) and Crisis Hotline: Veterans Press 1 (documentary short subject).
Oh, and just to show that Benedict Cumberbatch's journey hadn't been entirely wasted, The Imitation Game did win one award this time, for adapted screenplay.
What's that? You want another giddy Eddie picture? Right you are:
See more:
BAFTA Roundup: Eddie Redmayne IS the Best Actor
5 Eddie Redmayne Roles You Should Watch Online
LOOK: Young Eddie Redmayne Modeling Knitwear
Eddie Redmayne Cut Short His Honeymoon to Win a Golden Globe
Read More
Filed Under: