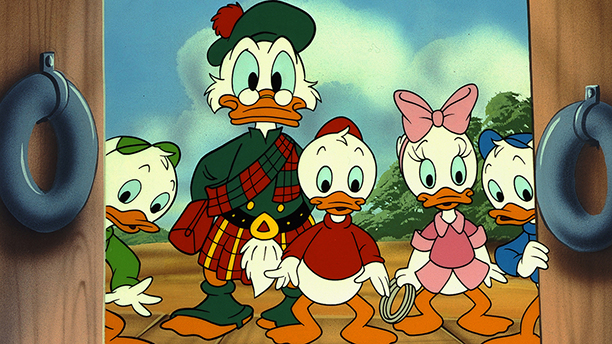 You may be having an "a-ha" moment right about now, thinking, "That's right, Donald Duck's uncle is indeed Scottish." It's been a minute since we've seen the elder Scot.
Billionaire Scrooge McDuck, originally from Glasgow, makes his return in a 2017 DuckTales reboot on Disney XD, reports Deadline Hollywood.
The original series aired from 1987 to 1990, revolving around Uncle Scrooge and his three crafty grandnephews Huey, Dewey and Louie. Donald Duck made a guest appearance here and there, sticking his bill in, but Disney wanted the main focus to be on Scrooge and his nephews.
Disney is keen on bringing the series back to television, with Marc Buhaj, Programming and General Manager, Disney XD, saying in a statement, "DuckTales has a special place in Disney's TV animation history … our new series will bring that same energy and adventurous spirit to a new generation."
Scrooge McDuck first came on the scene in 1947, created by Carl Barks, appearing in his own Dell Comics series. McDuck was such a hit that he was given his own TV show, and he starred in a string of films including DuckTales the Movie: Treasure of the Lost Lamp and Mickey's Once Upon a Christmas.
Here's a peek at Mr. McDuck in rare form:
Are you starting to flashback to original DuckTales episodes? 
See More:
Tom Hiddleston Breaks Out in Disney Song
'Downton Abbey' Actors Take on Disney
WATCH: Matt Smith, Michelle Dockery Read Poems for Disney Junior
Read More
Filed Under: