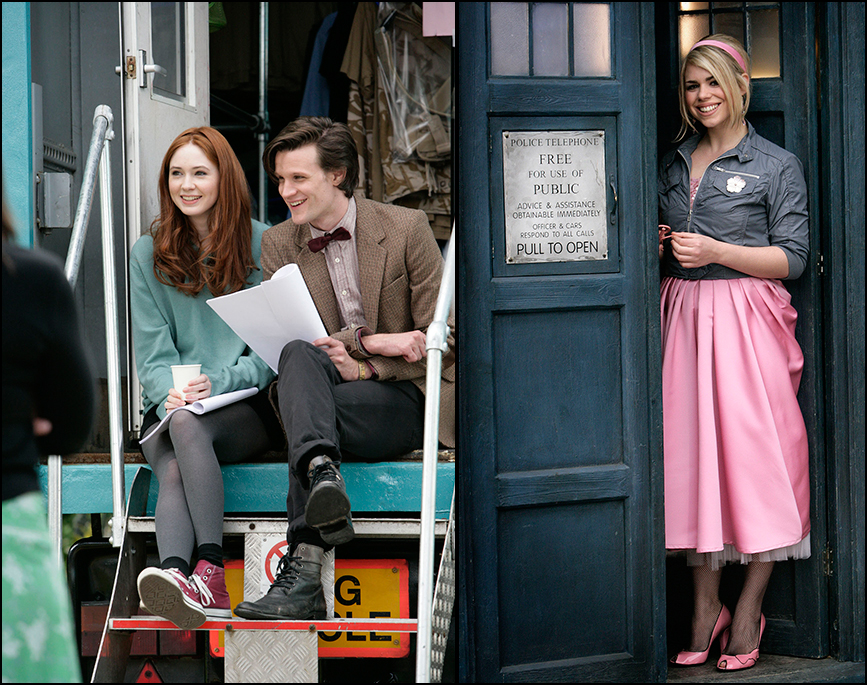 If you wanted to be where the fun was this weekend, a trip to Salt Lake City for the Comic Con FanXperience would not have been a bad investment. Especially the panel starring Karen Gillan, Matt Smith and Billie Piper.
In a packed Q&A session at the Salt Palace Convention Center, the three fielded questions about their time aboard the TARDIS, throwing light into unexpected dark corners of the Whoniverse as they did.
For example, Matt's response when asked for his favorite villain brought in a reference to a classic children's playground game: "Weeping Angel is my most favorite villain, because I just think the concept behind them is really brilliant. The villains were actually based on a game from England [it's called "What's The Time Mr. Wolf?," and is similar to "Red Light, Green Light"] about not moving when you are looking at them."
And then, this thoughtful moment: "I think that the Doctor would be the best villain somehow. I was really interested in his dark side. There is some sort of darkness. There is really an angry devastated man in there."
And he also said he was scared of Karen's tiny wrists, so much so that she sends him pictures of her wrists just to unnerve him.
Then there was this diplomatic nightmare:
All three have very different ideas about how they would like to travel in time, specifically which direction they'd like to go in.
Billie said: "I love going back in time. I hate the future. I am much more of a romantic. Revisiting times that you had absolutely nothing to do with. The futures are terrifying."
Love in SLC! Having a fabulous time!! Xx pic.twitter.com/tBf6PECkEn

— Billie Piper (@billiepiper) February 1, 2015
Whereas Karen has the opposite idea: "If I was really going to time travel, I would go forward to see how we develop. In the future we would probably be just massive brains and one big thumb for texting."
Karen, Billie Piper et Matt Smith à la convention #FanX15 — Salt Lake City (USA) via @slcomiccon pic.twitter.com/q2JOinsIGH

— Adoring Karen Gillan (@GillanFrance) January 31, 2015
And then, once it was all over, if her Twitter feed is anything to go by, Karen and Matt hightailed it to Frisco:
On our way to San Fran! pic.twitter.com/CqDdjOlnAg

— Karen Gillan (@karengillan) January 31, 2015
And met up with THIS guy:
The Gang reunited! In a casual tour bus for no apparent reason… pic.twitter.com/5xIDag0JSb

— Karen Gillan (@karengillan) January 31, 2015
Not a bad weekend's work, all told.
Here's what else has been going on in space and time this week:
• There are very few interviews with William Hartnell from his time as the First (and at that point only) Doctor. So the discovery last week of 15 minutes from his 1965 appearance on the BBC Radio 4's Desert Island Discs is of great interest to Whovians. If you're not aware of the show's format, it's an extended interview during which the interviewee chooses eight records that he would want with him if he was washed up on a desert island, and these musical choices often allow people to show a side of themselves that would otherwise be entirely hidden.
William's choices in the full program included "Lawd, You Made the Night Too Long" by Louis Armstrong, "The Spring Song" by Charlie Chaplin, and "Trees" by Paul Robeson, and in between these he chats about his early ambition to be a jockey and his formative years in the theater. Frustratingly, the recording cuts out just as the conversation turns to his role as the Doctor, but it's a fascinating listen nonetheless.
• Speaking of the early Doctors, BBC Radio 4 have revamped their "Doctor Who vs. Philosophers" quiz, using quotes from classic Who. Think you can handle it?
• Doctor Who's 10 most tragic deaths, via Radio Times.
• Congratulations to Neil Gaiman (writer of "The Doctor's Wife" and "Nightmare in Silver") for winning the outstanding contribution trophy at the BBC Audio Drama Awards.
• Radio Times have been gathering Doctor Who references from other TV shows, and found this asparagus in a bow tie, from Veggie Tales…
…and this, from Marvel's Agents of S.H.I.E.L.D.
• If you like this kind of thing, you may be interested in our two mega-posts from a year or two ago, gathering up first those kind of side references, and then full spoofs.
• There's a new issue of Doctor Who Magazine on the way:
• Nine times that Big Ben made an appearance in Doctor Who.
• Peter Davison (the Fifth Doctor) was in Australia promoting the Doctor Who Symphonic Spectacular, and appeared on Studio 10:
• And finally, to complete a week of former Doctors talking, here's a beautiful interview with Tom Baker with a delightful ending, courtesy of Big Finish:
TTFN!
Read More
Filed Under: