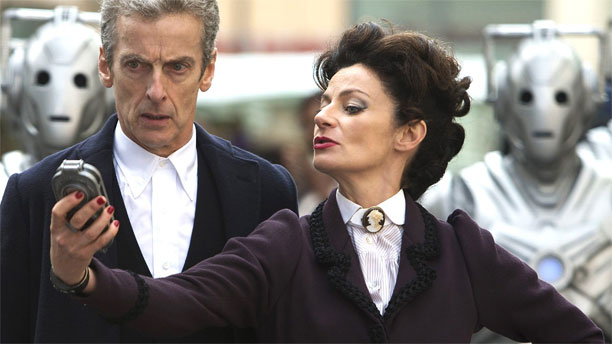 Before we launch headlong into another collection of Doctor Who-related stuff from the past week, Michelle Gomez has something important to say:
All of which is a delightfully strange preamble to the news that not only is Missy back, but she'll be appearing in a two-part story that begins Season Nine. Part one is called "The Magician's Apprentice" and part two will be "The Witch's Familiar," both written by Steven Moffat.
In a BBC press release, Michelle added: "Things have been a little beige since I left Missy behind, so I'm delighted to be putting my lippy back on.
"I'm positively dying to see the Doctor again!"
And, as a teaser for the new stories, Steven Moffat said: "Michelle as Missy was an instant hit last year, so she's back to plague the Doctor and Clara in the series opener. But what brings her back into their lives is the last thing they'd expect."
And just WHAT is that on Michelle's left wrist in that clip?
• All of which prompted the Doctor Who site to compile their five favorite Missy moments.
• And we've had a rummage in Tumblr to find some astonishing Missy-related fan-art. Like this:
And this:
and this:
This is what it must feel like for the Doctor:
Missy in blue:
And who could forget her most chilling catchphrase?
• Of course, if Missy's back, we might need some backup:
We can't until the return of Jemma Redgrave who's back as Kate in the new series! #DoctorWho http://t.co/NFg5CUwJOy pic.twitter.com/3D5nyHocqp

— Doctor Who Official (@bbcdoctorwho) February 20, 2015
Here's what else is going on in space and time this week:
• Remember David Tennant's spoof Broadchurch voiceover clip from a couple of weeks ago? Well the audio has now been set to footage from the show, but not Doctor Who, because it's nothing like Doctor Who:
• Now, who's for a musical interlude? The soon-to-retire Leslie Craythorn of Melbourne Conservatorium in Australia has been restoring a very, very rare old synth called the EMS Synthi 100, one of which was used to create the soundtrack to the 1972 Third Doctor adventure "The Sea Devils" in 1972.
Here's an example of it in dramatic action:
And here's the actual Melbourne synth, which offers some clue as to how those unearthly sounds were first created in those pioneering days:
• Now, this is a movie we'd like to see. A Star Trek/Doctor Who crossover trailer for "The Battle for Gallifrey" by Theta Sigma Productions:
• An interview with Karen Gillan in which she describes the very final scene she shot with Matt Smith and Arthur Darvill:
"I remember the last thing we shot was in the episode 'The Power of Three.' It was just like a normal shot of us looking outwards, outside the TARDIS, and we had to one-by-one go inside the TARDIS. So it became this really symbolic moment where Arthur went in, I went in and then Matt went in, and they shouted 'cut' for the very last time. And we all just like hugged in the dark in the TARDIS. It was like such a beautiful moment, actually."
• While we're on the subject of crossovers, how about Liam Neeson in the kidnap thriller Taken having a stiff word with the Doctor? (via Mireia Muñoz):
• And finally, American Who fans, how about designing a book cover for your favorite historical TARDIS trip, with the chance of winning a new set of the History Collection of Doctor Who books?
For more details, go to the BBC America Tumblr.
TTFN!
Read More
Filed Under: