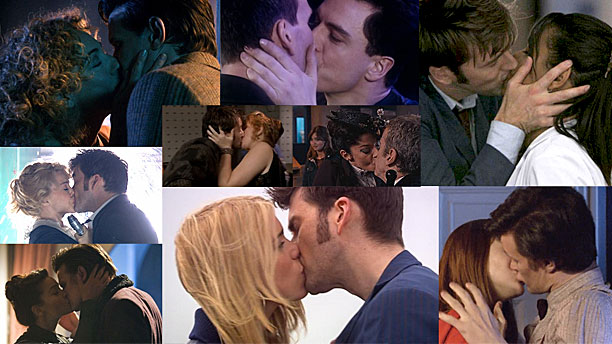 This week's Who's Day roundup is devoted to special days and the power of love, as we've had at least three special days in the past week, which is almost half of all the available days, and one of them was particularly loved-up. The other ones were pretty good too.
So, let's start by sending fantastic birthday wishes to Christopher Eccleston for yesterday (February 16). Here's his very first on-screen moment as the Doctor (which is, therefore, the very first on-screen appearance of our favorite Time Lord in modern Doctor Who):
• As it was Valentine's Day on Saturday, we put together a list of some of the most romantic moments in Doctor Who history, quite a lot of which are tearjerkers.
• Meanwhile, Radio Times first ran a quiz to find out which Doctor you should date (presumably with permission from a certain Professor Song), and then which companion (presumably with permission from a certain Doctor if the final result came up River).
• And the Doctor Who site had their own variations, of which this is a favorite:
• There was this too:
Happy #ValentinesDay from #DoctorWho! (Have we gone too far?) pic.twitter.com/HaCX8HSR64

— Doctor Who on BBCA (@DoctorWho_BBCA) February 15, 2015
Here's what else is going on in space and time this week:
• Filming has begun on the second part of Season 9 (February 12), and Hettie Macdonald, director of Blink (and the very good Sky Atlantic series Fortitude), has come back. This can only be good news:
Filming has started on block 2 of the new series of #DoctorWho! Red dots on a world map… What d'you think it means? pic.twitter.com/ARGJr08QXN

— Doctor Who Official (@bbcdoctorwho) February 12, 2015
• David Tennant has won another award, this time for his portrayal of Shakespeare's Richard II, which secured a WhatsOnStage Award. Billie Piper won best actress for her part in the National Theatre's Great Britain. Here's his thank you speech to the voters:
• And speaking of awards:
Samuel Anderson wins Best Male Performance in TV at last night's Screen Nation Awards! Congrats! We're tinkled Pink! pic.twitter.com/tZXvL0y9xE

— Doctor Who Official (@bbcdoctorwho) February 16, 2015
• Should you be considering a trip to the Doctor Who Experience in Cardiff this year, here's a little behind-the-scenes look at the adventure that awaits you:
• Stockport College in Manchester, England is running an 11-week evening course in the history of Doctor Who, starting in April. They'll be teaching it in high schools soon!
• The late, great Kate O'Mara, who played the ruthlessly scientific Time Lord the Rani, answered questions from the TARDIS tin at the Doctor Who 50th anniversary event in November 2013:
• If you're a fan of Season Eight's bank robbery caper "Time Heist," the Doctor Who site has all the facts on how they pulled off the blag…
• …and a quiz, so you can see how well you were paying attention.
• In the Titan Comics release Doctor Who: The Twelfth Doctor issue #9 (due in July), the Doctor and Clara find themselves in Las Vegas, battling a foe so unpleasant, they must form an uneasy alliance with gangsters… oh and look! The Rat Pack are there too!
• Think you spotted all the references to Doctor Who storylines in Torchwood? Radio Times have made a checklist for you.
• Missy fans, this is for you: a fan-made video bringing together all of the Master's incarnations to date, which just serves to prove how well she fits into his malevolent lineage:
• Kasterborous have a roundup of the latest audio stories from Big Picture.
• And while thinking about the extended media, they also pulled together a list of six characters who made the leap into the canonical world of the TV show, from outside.
• And finally, let's end with this amazing clip, courtesy of YouTuber John Smith—who has some form with eye-opening Doctor Who videos—a reimagining of the TARDIS in flight, in which everything else dematerializes and then materializes, instead of the blue box itseif:
TTFN!
Read More
Filed Under: