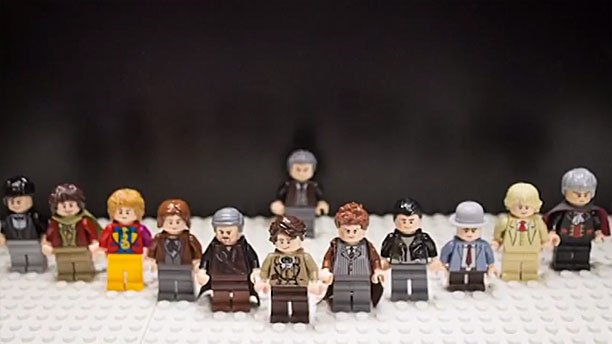 The theme to this week's roundup of Whovian things was inspired by the news that there is Doctor Who-themed LEGO on the way, before the end of the year.
Fans have been making their own Whovian LEGO worlds for years, of course, but this is the first time an official Doctor Who set will be on sale. And as a tribute, we've pulled together a Top 5 of fan-made Doctor Who LEGO animations, starting with the moment the Eleventh Doctor dropped his bow tie for the final time, as rendered startlingly well by BlobVanDam:
Then there's "The Dalek Incursion" (Part 1), made by UnreasonableSanity with lots of the music from classic Who:
Back in 2011, BentheCreator created this particularly good account of the final days of the Time War, during which the Eighth Doctor regenerates into the Ninth (as would make perfect sense, before we knew about the War Doctor):
To put the War Doctor back where he belongs, here is all of "The Night of the Doctor," rendered in blockish form by JP Kloess:
And, to round things off, selected highlights from "The Day of the Doctor" made by bookshelfproductions:
Now, can everyone make sure they haven't left any on the floor? Those blocks are murder on bare feet.
Here's what else has been going on in space and time this week:
• Having helped save the world from Missy and the Cybermen, Kate Stewart (as played by Jemma Redgrave) and UNIT will be back in a new Big Finish audio adventure entitled "UNIT: Extinction."
• If you've recently been to see The Theory of Everything and wonder where you've seen the multi-award-nominated Felicity Jones before. She met the Tenth Doctor and Donna (and Agatha Christie) in "The Unicorn and the Wasp":
• Radio Times lists the celebrities you may know know are fans of Doctor Who.
• Actor and comedian Toby Hadoke created this heartfelt "In Memoriam" video, as a tribute to all of the inspired and creative people who worked on Doctor Who over the years that we lost in 2014.
• Blogtor Who spotted the moment in the BBC comedy Count Arthur Strong when one of the alien races from "The Rings of Akhaten" suddenly arrived in the middle of a London cafe, just to upstage Rory Kinnear in the middle of a TV interview:
They also found this moment from the fiendishly tricky BBC game show Only Connect:
• From Michael Gambon to Toby Jones to David Tennant, Radio Times has 18 actors who've traveled from the (Harry) Potterverse to the (Doctor) Whoniverse, or vice versa.
• And finally, this is lovely. The moment where Christopher Eccleston assists in a proposal… as the Ninth Doctor:
TTFN!
Read More
Filed Under: