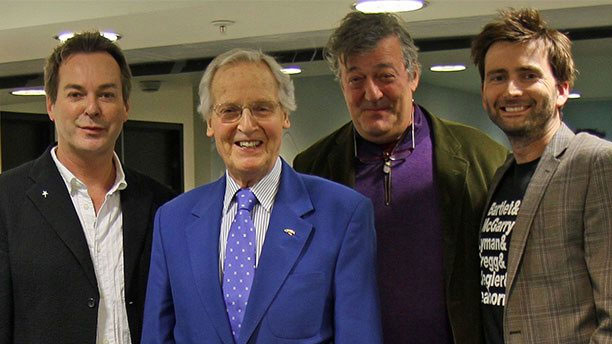 This Monday (February 9), David Tennant will make his debut in a radio institution, and if preliminary reports are to be believed, will more than walk away with his head held high.
Just a Minute is a comedy panel show that started on BBC Radio 4 in 1967. The format is preposterously simple; contestants are required to speak for a minute on a topic they've just been awarded, and they must avoid repetition, deviation (from the point), and hesitation.
Their rival contestants will be hovering, hawklike, and as soon as a rule has been broken, they leap on their buzzers to challenge, and if successful, take over, with points being awarded to the person who is still speaking as the 60-second whistle blows.
If you do take the time to listen on Monday, (here's the iPlayer link, which is international) you'll get to hear David's very first stab at the game, which goes rather well. He's given the subject of Shakespeare, and in front of veteran panelists Julian Clary, Stephen Fry and Paul Merton (none of whom would be bothered about going easy on the new boy), managed a whole minute, uninterrupted.
Having set such an immaculately high standard, David took a round of applause before quipping: "Can I leave now before I ruin my record?"
Listen to Just a Minute from 2pm/3C, on Monday February 9.
See more:
WATCH: David Tennant – "I Don't Mind the Shutting-Up"
WATCH: David Tennant Pulling Faces for Comic Relief
David Tennant Wielding a Screwdriver Before 'Doctor Who'
WATCH: David Tennant Honored by His Dad at the National TV Awards
Read More
Filed Under: