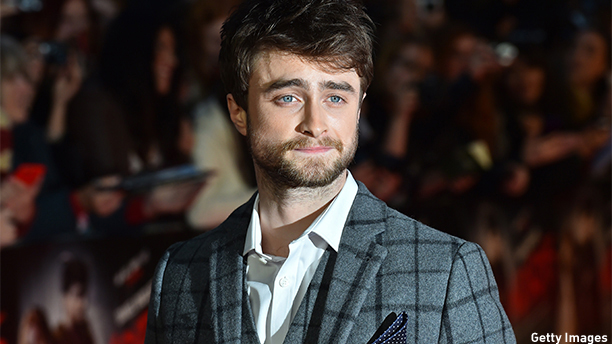 Why fix something if it's not broken? In other words, if you're an actor, an English actor to be exact, then why drop the delightfully pleasant way of speaking that makes us Americans weak in the knees?
Well, the short answer is: Actors like to act, and that might include adapting their accent for a character.
Daniel Radcliffe had a candid chat with the U.K.'s Sunday Express saying the producers of the romantic comedy What I weren't too keen on the Canadian accent Radcliffe tried out during warm-ups before filming.
Radcliffe told the paper, "It was basically: 'You're not marketable without your English accent,' which is bad news for all the other stuff I've done with American accents."
His character's country of origin not only changes his accent, but his storyline: There has to be some explanation on how he made his way across the pond. If he were Canadian like the other main characters, he could've grown up just down the street, but now he's the mysterious foreigner at the party.
Radcliffe was looking forward to taking a break from his native accent, trying something different, but took one for the team, saying, "It was one of those ridiculous last-minute panics on their behalf, but I certainly wasn't going to go, 'Well, screw you guys, I'm going to put 200 people out of work for the sake of an accent'."
Here's a clip of Radcliffe portraying an American in Horns:
And Radcliffe as an English expat in What If:
Do you think the accent makes a difference?
See More: 
The Reason Daniel Radcliffe Won't Wear Glasses in Real Life
WATCH: Daniel Radcliffe Raps (Well) on 'Fallon'
WATCH: Fancy Being Chatted Up By Daniel Radcliffe?
Read More
Filed Under: