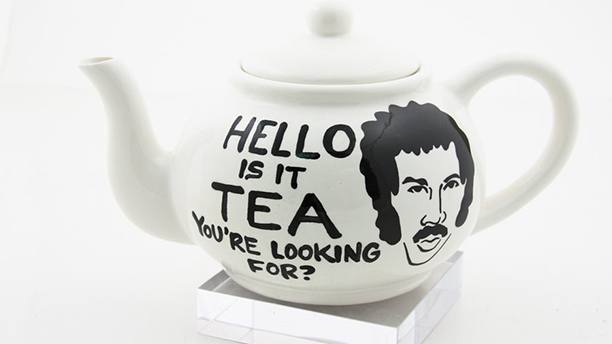 Chris Hardwick's new show @Midnight, on Comedy Central, incorporates a fun game called #HashtagWars, with last night's episode narrowing in on Madonna's spill at the Brit Awards.
The game is pretty self-explanatory: Hardwick picks a hot topic, comes up with a new hashtag, and the three celebrity guests compete by gaining points each time they chime in with their own take on the hashtag.
Hardwick kicked off the game, saying, "In honor of Madonna, and everyone else who performed across the pond, tonight's hashtag is #MakeASongBritish."
He even provided some examples like, "Let it BBC," "Like a Rolling Stonehenge," and, "July, September, October, November Rain."
He put 60 seconds on the clock with College Humor's Kumail Nanjiani ringing in first with "Royal Baby Got Back," and Hot Tub Time Machine's Clark Duke shooting back with, "Doctor Who Let the Dogs Out." Nanjiani and Duke monopolized the first two rounds before Michael Ian Black got on the scoreboard with, "It's the End of the World as We Know It … and I'm Keeping a Stiff Upper Lip."
You can check out how the rest of the game played out below:
The game didn't stop there with viewers taking to Twitter with their own mashups of American song titles with British lingo:
Knowing Tea, Knowing You #MakeASongBritish — Samantha Shannon (@say_shannon) February 26, 2015
#MakeASongBritish It's Raining Chaps

— Alfred Kirkland (@xAlfredFJones) February 26, 2015
Born To Queue #MakeASongBritish — Mitch Benn (@MitchBenn) February 26, 2015
"Purple Reign" #MakeASongBritish — Gina Scanlon (@JeanGina3D) February 26, 2015
Gettin' Twiggy Wit It #MakeASongBritish — I Hear of Sherlock (@IHearofSherlock) February 26, 2015
Hit The Road Union Jack #MakeASongBritish @midnight — Lizz Winstead (@lizzwinstead) February 26, 2015
Dickens a Box #MakeASongBritish @midnight pic.twitter.com/V6Deu2MGis — Michael Mann (@Michaelbmann3) February 26, 2015
There were so many clever Britcentric song title suggestions, it was hard to stop posting examples; we can see why the game has become so popular and quite addictive.

Do you have any Britished-up song titles of your own?
See More:
5 British Card Games You Should Learn
#AskBenedict: The Best of Benedict Cumberbatch's Twitter Q&A
Five Lessons That Will Help Sort Out Your 'British' Accent
Read More
Filed Under: