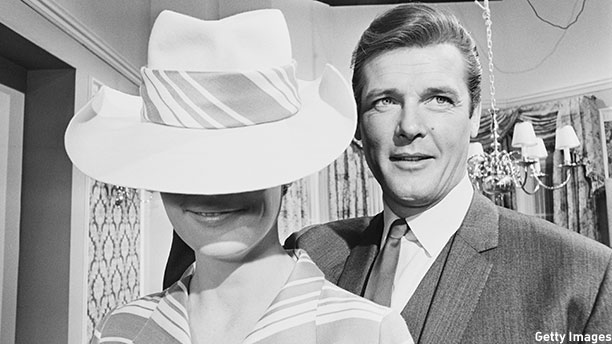 That most dashing of British TV heroes, Simon Templar, is being resurrected. Again. Possibly for real this time.
The Radio Times is reporting that the U.K. adventure series The Saint, which originally starred a pre-Bond Roger Moore from 1962 to 1969, will be updated for the 21st century. The British network ITV is planning to start filming a pilot in 2016, with Ed Whitmore and Chris Lunt taking the reins.
While the Robin Hood-esque master thief was the perfect hero for the swinging '60s, the creators of the new Saint believe Templar is "timeless." "There is a post-Breaking Bad appetite for morally grey characters," says Whitmore.
For Moore, playing the suave, impeccably dressed Simon Templar was essentially a test run for his 007 tenure.
Val Kilmer stepped into Moore's shoes for the 1997 film version, and a few other attempts to re-imagine the series have been made. (Dougray Scott, James Purefoy and Tyrant's Adam Rayner have reportedly been attached to other attempted reboots, none of which made it to U.S. air.) Here's a promo of Rayner in the role, with Buffy's Eliza Dushku as the female lead:
Who would you pick to play Simon Templar?
Read More
Filed Under: