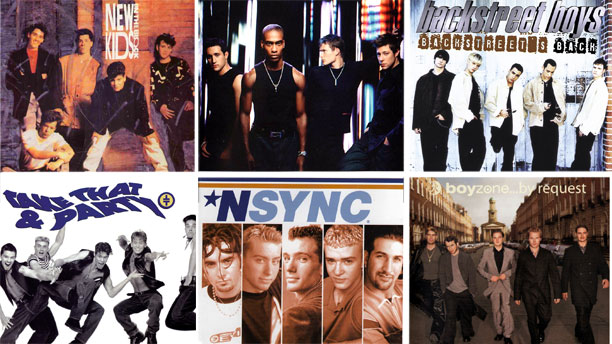 There's no love as profound or as abiding as a first love. This is the secret fuel that keeps the engine of pop music ticking along, and it is not to be derided. Boybands know this, and they also know that the trick to a truly lasting appeal (and this has been true since the Beatles first arrived in New York with their funny long hair, leaving journalists struggling to work out which was which) lies in catering to a broad range of tastes, both music and, erm, otherwise.
So, for anyone that still carries a photo of Jordan Knight in their purse, or can still see faint marks where once was a loveheart with Nick Carter's initials, carved into a forearm using a compass, here are the bands British kids were taking to their hearts when your crushes were first hot and explosive:
If you liked New Kids on the Block, try Take That
Take That are now considered pop veterans, the thoroughbred boyband-turned manband, and so it's easy to forget that they were originally a stop-gap thrill for young pop fans who'd missed out on their elder siblings' New Kids obsession. This was not a vehicle that was built to last, and yet Take That have weathered their most intense Beatlemania moments, split up, got back together, and then started shedding members again. Before Adele came along, Britain's biggest solo star was Robbie Williams, and his phenomenal rise could not have happened without the slingshot boost provided by his first band.
If you liked the Backstreet Boys, try Boyzone
Just as the Backstreet Boys were an attempt to rub a new genie out of the discarded lamp that gave us New Kids on the Block, Boyzone were a fairly blatant stab at making an Irish Take That. However, manager Louis Walsh quickly noticed that Boyzone's fans were keener on their ballady covers, and then just ballads, than anything too uptempo or spicy. So rather than selling the idea of sexy boys from the wrong end of town, Boyzone became about big emotive gestures made by five young men standing in a line, with the sharp cheekbones of Ronan Keating acting as a kind of focal bullseye towards the center.
If you liked *NSYNC, try Blue
If you like your pop with an R&B edge, performed by photogenic boys who are not abashed about their own handsomeness (or indeed shy of suggesting certain romantic realities to their audience), then Blue are the closest thing to the full Timberlake Britain has to offer. Granted they are lacking one star with the same charisma as the actual Timberlake, but they more than made up for this by boasting a three-out-of-four strong lineup that featured two VERY handsome guys and Lee Ryan (he's wearing the hoody in the clip above), who is both hyperactive and extremely eccentric.
If you liked Boyz II Men, try JLS
JLS were a more homegrown musical proposition, having been formed by Oritsé Williams (a massive Boyz II Men fan) as a gang of like-minded musical friends, rather than a ruthlessly auditioned unit put together to a formula. They had the perfect pop band career too, having nearly won The X Factor in 2008, they went on to dominate the British charts for a very respectable five years, and then split up before anyone had time to get bored.
If you liked EYC, try 911
Sometimes it's the also-rans that inspire the most devotion (among, admittedly, a smaller group of fanatics than some of their rivals). 911 are like a redux boyband, boasting only one very pretty member, one rough diamond, and one boy next door, which meant the arduous chores of being the cheeky scamp or the manly buffcake had to be shared out as and when the need arose. Consequently, 911 enjoyed all of the attention of the late '90s boyband boom, but never really stuck in the memory for too long.
If you liked All-4-One, try Westlife
Just as All-4-One followed Boyz II Men, Westlife were the band that built their reputation on the hard balladeering work performed by Boyzone. It shouldn't be a surprise to find out they shared a manager too. But Westlife's secret ingredient was that three of their number, most often the three in the middle, could really properly sing, especially on great big choral showtunes of the sort you'd expect Josh Groban to belt out. In fact, both artists share a hit song in "You Raise Me Up." Granted, there's no bass voice in Westlife, so their doo wop abilities are rather hampered, and they did make an ill-advised lurch into swing territory in 2004, with the appallingly-titled Allow Us To Be Frank (sadly this is not a joke, even after all this time), but if it's harmonic vocal chops you like, you could do worse.
If you like 5 Seconds of Summer, try McBusted
Pop punk that is more pop than punk but still more punk than pop. McBusted are a portmanteau group, formed when McFly reached out to their former mentors in the group Busted (a genuinely huge pop prospect in 2002 who had been crushed by the departure of their heartthrob singer Charlie Simpson for more hardcore musical endeavors) for a joint tour. Both groups wrote deceptively smart big dumb pop songs and played them live on real instruments. Not that this stopped rock snobs sneering about authenticity, but you can't have everything.
If you liked O-Town, try One Direction
You, uh, you already know about this lot, right? But the comparison still makes sense. Both bands were formed on a TV show, ended up releasing big ballads that sound rather like stadium rock, and were saddled with a name that makes little sense and begins with an o. Although "one direction" can at least be pressed into service as an innuendo—"wand erection"—and have arguably done rather better out of their time in the spotlight. So basically, if you liked O-Town but would rather trade up for a better version with a ruder name, 1D are your boys.
If you liked LFO, try 5ive
The late '90s were a curious time for British pop music. The Spice Girls had conquered most of the important territories, after thoroughly bursting the increasingly self-important Britpop bubble with one stamp of a stack-heeled shoe. Meanwhile, hip hop was becoming darker and meaner by the month, forcing pop music to become lighter and sillier almost as a direct response to all of the gloom. Enter groups like LFO and 5ive, ready to get the party started with a fizzy mix of rap and pop, and effectively carving a new niche out for boy bands, who had to evolve or risk getting crushed by the Spice juggernaut.
If you liked Jodeci, try East 17
E17 were pitched as the rough and ready Stones to Take That's Beatles, partly because they are from London, while Gary Barlow and co are from the north, and partly because they genuinely were a little bit raggedy around the edges in a way TT were not. But while their rave-pop anthems like "It's Alright" crossed a line between the early '90s EDM boom (although no one called it EDM at the time) and post-Michael Jackson pop music, lead singer Brian Harvey's true love was American R&B. He was (and presumably still is) a massive fan of new jack swing and soul, an influence that can be heard in his voice, if not in his choice of headgear.
See more:
10 British Actors Trying Their Hands at Pop Music
Five Great British Musical Treats For Bastille Fans
5 British Music Festivals to Attend if Glastonbury's Not Your Thing
Five British Music Stars That Should Be Knighted
Read More
Filed Under: