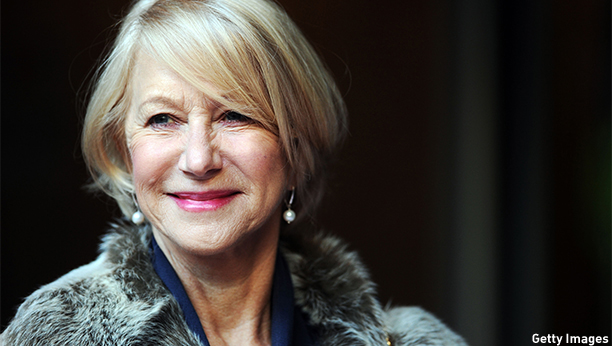 London may trump NYC when it comes to dressing up underground travel, but the NYC MTA (Metropolitan Transit Authority) got a stylish upgrade with Dame Helen Mirren riding the subway this past weekend.
A subway sleuth snapped her picture, which you can see below:

Media outlets are praising the British actress for her subway skillset with headlines, like, "Dame Helen Mirren Demonstrates Perfect Subway Etiquette," and "Tons of New Yorkers Saw a Very Regal-Looking Helen Mirren," noting her holding her tote bag, versus taking up an empty seat.
Especially in snowy weather, the subway may be the best bet to get from A to Z, and in this case Mirren took the R train. People might think Mirren was out doing research for a role, but it appears this isn't her first time taking a spin on NYC mass transit:
Thurs nite: saw helen mirren n subway sta @ 14th/8th ave & had chance 2 tell her that I love her wrk. THIS is 1 of the reasons I heart NYC — Celia C. Peters (@celiacpeters) September 10, 2011
I just want everyone to know that today I sat next to Helen Mirren on a train, and it was so awesome that I forgot to say hi… or breathe.

— Lindsey Raguette (@LindseyRaguette) April 17, 2014
Mirren is currently starring on Broadway, in The Audience, at the Gerald Schoenfeld Theatre at 236 West 45h Street in NYC.
This may not be her last trainspotting.
What do you think of the British star's choice of transport?
See More:
Dame Helen Mirren, What are You DOING?
Helen Mirren's Advice For Young Actors: "Don't Be Up Your Own Bum"
Snapshot: 10 Awesomely Designed London Tube Stations
Read More
Filed Under: