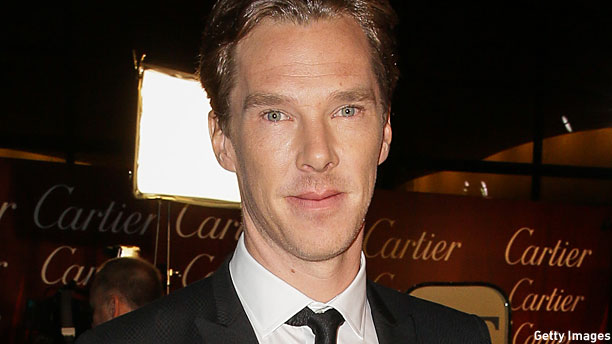 Martin Tyrell, the Harrow school drama teacher who first spotted that Benedict Cumberbatch was very, very good at acting, has been speaking to the Radio Times about his moment of revelation, which occurred when Benedict was just 13-years-old.
"He was obviously an outstanding actor – a combination of intuition and intellect. It's probably once in a lifetime that you find a boy actor as magnificent as this."
"I remember him auditioning very early on for the part of a saucy French maid in a farce. It was a small part, involving a feather duster for about ten minutes, but even then in rehearsal he was strikingly mature."
Although at the time, he was more widely known as a painter than an actor: "He painted some magnificent portraits.
"In fact, I think the artist side of him impressed some people even more than his acting."
Should you wish to see an Annie Liebovitz photo of Benedict with Felicity Jones sitting on his lap, and David Oyelowo and Eddie Redmayne behind him. The cover of the next Vanity Fair has dolled up several Oscar nominees in quite remarkable fashion:
And here it is, VF's 21st Annual Hollywood Issue, photographed by Annie Leibovitz! http://t.co/lWaXnqCsag pic.twitter.com/eH6eRDSjx4

— VANITY FAIR (@VanityFair) February 3, 2015
And here's how it was done:
Go behind the scenes of the #VFHollywood Issue cover shoot with Annie Leibovitz http://t.co/G5DMVkEI8e pic.twitter.com/PxGIhSli6M

— VANITY FAIR (@VanityFair) February 3, 2015
See more:
Benedict Cumberbatch: "I Wanted to be a Barrister"
WATCH: Benedict Cumberbatch Tries Some New Names
Keira Knightley: 'I Always Knew Benedict Was Brilliant'
WATCH: When Ellen Met Benedict
Read More
Filed Under: