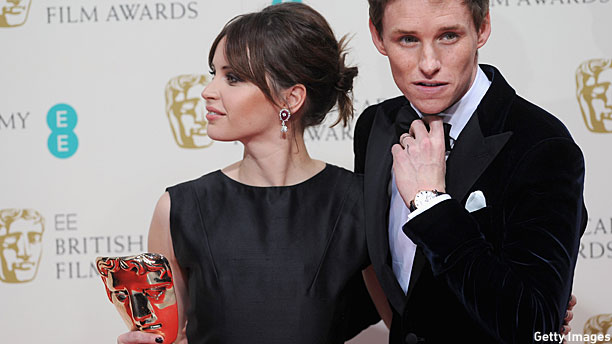 The BAFTA Film Awards have only just finished, the confetti being packed away and the red carpet rolled up for another ceremony on another day. And it's clear that in the big battle of the boffins between Benedict Cumberbatch and Eddie Redmayne, there has been a clear winner, and it's not Sherlock.
In fact, The Theory of Everything won three awards, adapted screenplay (from Jane Wilde's book Travelling to Infinity: My Life with Stephen), outstanding British film, and for Eddie, the satisfying backslap of the lead actor trophy.
Here's his acceptance speech, having been introduced by a regal Kristin Scott Thomas:
The movie's good fortune contrasted starkly with that of The Imitation Game, which did not win anything, despite also being very good.
Not that the night was entirely devoted to the story of Stephen Hawking; Boyhood was another big winner, taking home the director award for Richard Linklater, supporting actress for Patricia Arquette, and the coveted best film trophy.
The night's other big winner was Wes Anderson's The Grand Budapest Hotel, and it's fitting for such a uniquely delivered movie vision that there was trophies for costume and production design with its name on, and film music too. And the film took home the original screenplay award as well.
Elsewhere, Julianne Moore won in the actress in a leading role category, for her part in Still Alice, Unbroken star Jack O'Connell won the rising star award, and J.K. Simmons won the supporting actor trophy for Whiplash, which also—as one may expect—won an award for sound.
The veteran director Mike Leigh won the fellowship of the Academy, and—having been introduced by Imelda Staunton and Sally Hawkins—took time not only to thank the investors who have backed his films, but those who did not:
Oh and this is one in the eye for the Oscars, The Lego Movie won best animated film.
And you can see a full list of the winners over at BAFTA's site.
See more:
5 Eddie Redmayne Roles You Should Watch Online
Felicity Jones to Join 'Star Wars' Spin-Off?
LOOK: Young Eddie Redmayne Modeling Knitwear
5 British Stars Overlooked By the 2015 Grammys
Read More
Filed Under: