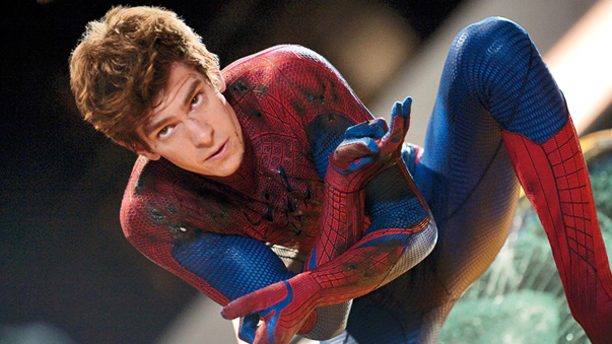 For a while there it looked as if British actors would take over all the prominent positions as world-saving super-heroes, especially now that Benedict Cumberbatch has signed up to play Marvel's Doctor Strange.
One British actor that has no need to don the skin-tight outfits (for the time being at least) is Andrew Garfield, as a new deal has been thrashed out between Sony—who own the rights to the character—and Marvel Studios to allow Spider-Man to appear in the Marvel movie universe.
The plan is to create a new thread of Spider-Man films under the Marvel banner (just as he appeared in the comic books) and to have him interact with the other heroes in the franchise, such as Iron Man, the Hulk and the Avengers (again, just as he did in the comic books).
According to the Wall Street Journal, the plan is for the character of Peter Parker to make an appearance in one of the many Marvel movies that are currently on the slate, with the most likely candidate being Captain America: Civil War (slated for release in 2016), which tells the story of a schism in the superhero community, with Captain America on one side and Iron Man on the other. Spider-Man's role in the original story is pivotal.
Whether the new Spidey will be played by another British star (*cough*BenWhishaw*cough*) remains to be seen, but according to the report, it won't be Andrew.
Marvel Studios President Kevin Feige said of the deal: "I am thrilled to team with my friends at Sony Pictures along with Amy Pascal to produce the next Spider-Man movie."
"I am equally excited for the opportunity to have Spider-Man appear in the Marvel Comic Universe, something which both we at Marvel, and fans alike, have been looking forward to for years."
Sony Pictures President Doug Belgrand added: "Sony Pictures and Marvel Studios share a love for the characters in the Spider-Man universe and have a long, successful history of working together. This new level of collaboration is the perfect way to take Peter Parker's story into the future."
See more:
Andrew Garfield Has Had A Very Good Day
WATCH: 'The Amazing Spider-Man 2' Trailer Starring Andrew Garfield
John Barrowman's Thoughts on Andrew Garfield as Spider-Man
Andrew Garfield Recalls 'Doctor Who' Role, Praises Tennant and Smith
Read More
Filed Under: