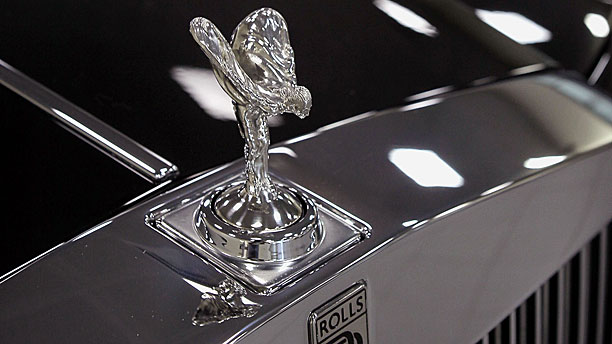 In praising the automotive excellence of an entire country, it's never the middle ranking vehicles that take the credit. You're not going to see too many appreciative blog posts hailing the Austin Princess or Ford Granada as icons of a bygone age (although in a sense that's exactly what they were).
No, to really cut it as a memorable motor, you either have to be entirely idiosyncratic, or simply the very best it is possible to be. The examples we have here fall into either camp, starting with perhaps the most particularly British car of them all:
Mini

It's like a car, only smaller! Although the strange thing about the Mini is that it doesn't feel that small once inside, and there are many, many tales of the sort of thing it is possible to do once inside—whether it's giving birth or loading in a drum kit. The Mini is also the iconic car of the Swinging '60s. In those old news reels, you can see various Beatles with extravagant facial hair getting out of Minis at Abbey Road and going off to record Sgt. Pepper's Lonely Hearts Club Band. Small wonder that the relaunched version from the 1990s featured a prominent union flag design on the roof.
And best of all it's the source of a million jokes along these lines:
Q: How do you get two whales in a Mini?
A: Along the M4 and over the Severn Bridge.
MG Midget

Great Britain is not an island that particularly suits a soft-top. On sunny days, they are wonderful, but you can't rely on the British weather to let you have your joyous sprint through the countryside with a significant other by your side and a picnic hamper in the back seat. That said, no one is immune the joys of al fresco driving, and the Midget is just a perfectly giddy shape for that sort of a thing. It's all nose and headlight cannons, not unlike the E-Type Jaguar (see below) but on a budget. Also, some MGs could be fitted with an overdrive, which effectively added a fifth gear and a rather Bond-ish switch to the dashboard, ready to be flipped at a moment's notice. That's worth any amount of damp and frosty commutes.
Morris Minor

The Morris Minor and the wood-framed Minor Traveller are a throwback to an age of austerity and rationing. They first appeared in 1948, in an economy still struggling to recover from the Second World War, as a budget car for people who wanted to get in on the motoring boom, didn't want to be saddled with a duff motor, but were hampered by a lack of funds. It's a lightweight, rear-wheel drive car, all charm and dials—most commonly seen in those lovely dark, mottled pastel shades—and was the first British car to sell more than a million.
Incidentally, next time you watch the 1997 movie of The Borrowers, look at the vehicles; every car is in some way a variation on the Morris Minor.
The Rolls Royce Phantom

There are many cars that people dream of owning when their number comes up on the lottery (or are unexpectedly cast in a lead role for the next three Star Wars movies). A Range Rover with tinted windows, perhaps. Or a Bugatti Veyron with a spray-paint resistant finish. But nothing says wealth like a vintage Rolls. Especially the Phantom with its Greek pillars at the front and that hood ornament. John Lennon appalled other Rolls owners by painting his like a Romany caravan and installing a phone and a record player. Noel Gallagher was given a brown one by his record company boss at the height of Oasis' success, and he can't even drive. It's THAT potent a status symbol.
The James Bond movies have had a lot of fun with cars over the years, turning them into submarines, making them invisible and remote-controlled, and adding a swannee whistle sound effect as they spiral-jump over a river (in The Man with the Golden Gun). But none of Bond's other cars is as cool as the Aston Martin DB5. That's the one with the revolving number-plates and machine guns, the one with the revolving blade gladiator wheels, the car with the flipping ejector seat! Small wonder that when Skyfall sought to reference some of the most iconic moments in Bond history for the 50th anniversary of the franchise, this was the car they returned to.
Jaguar E-Type

Forget everything I said above about convertibles. When a car is this gorgeous, it doesn't always need a hat. The E-Type is the car Enzo Ferrari called "the most beautiful car ever made," for no other reason than an adherence to the truth. It's the car that has been added to the permanent design collection of the New York City Museum of Modern Art, one of only six to have achieved such a distinction. It's the car that speaks to the British love of racing, boasting a 3.8-liter straight six-cylinder engine capable of producing a top speed of 150mph, but it's also the sort of car a certain type of man (Austin Powers) would buy in order to attract women. It's a cad's carriage, a fancy-Dan's jalopy. It's the sort of car that would look simply awful with a baby seat, but at the same time, could totally get away with it because why wouldn't a parent want to put their child in the most beautiful car ever made?
Granted the other parent would have to follow along on their bike, but that's the price you pay for gorgeousness.
See more:
Why Do the Brits Drive on the Left?
5 Vintage British Things That Made a Comeback
5 British Literary Characters That Made a Comeback
Ed Sheeran's First Driving Lesson, with the Stig
Read More
Filed Under: