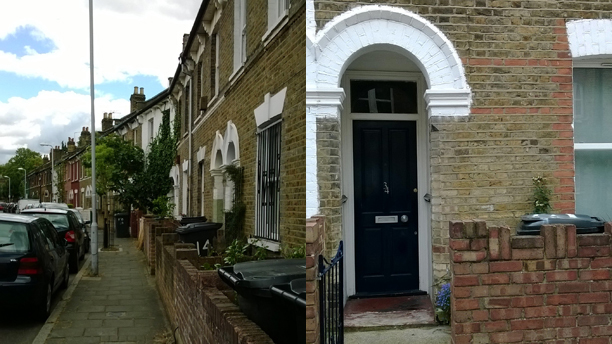 If you're a reader of Anglophenia, you've most likely thought once or twice, "I could see myself living in London." Making the move may be difficult, but it's not impossible, with finding a place to live being half the battle. Looking for an apartment online and sharing it with strangers might seem daunting, but it's one way to go about making the move overseas a reality. Here are five takeaways from staying in London past the holiday period, pulled from personal experiences living in flat shares:
1. Flats come furnished
London is an expensive city, so you may opt to share a flat to cut down on expenses. It's fairly easy to find a vacancy via GumTree.com (the U.K.'s version of CraigsList), which is conveniently sorted by area. Unlike the U.S., it's typical for U.K. flats to come furnished, at least with the basics like a bed and dresser in the bedroom. When I was looking for apartments my last stay in London, an English friend of mine made a great point, saying, "Why would you move your furniture to every new apartment?" She clarified that typically people move from apartment to apartment depending on their needs, and when it's time for more permanent digs, they then invest in furniture. Moving around in London is much easier when it's just you and a suitcase. As well, Britons may go traveling for a few months, or even a year, so it isn't too hard to find an open space. I headed to London as part of a five-week grad school program. I decided last minute to stay the rest of the summer and was able to find a flat share in a matter of days in North Islington with two English lads. The flat did indeed come with a washing machine in the kitchen, but no dryer.
2. Roommates aren't always a nuisance
British flats come furnished, and they come with British flatmates or possibly people from other countries. Sure, you may do an apartment share when moving to a new city in the U.S. like New York, but you're not necessarily promised that international vibe that you'd get when staying in London. Moving in with people you don't know could be seen as rent-a-friend, but on a more positive note, your new flatmates might take you under their wing.
While traveling, I signed on to rent a room in Stoke Newington. I didn't ask a lot of questions because my friend was already living there, and I knew the room would be snapped up if I didn't act quickly. When I turned up, it wasn't a flat, but a four-story house (seen above), with six roommates including two English girls, a Scottish girl, an Italian girl, and an American couple living in the attic. It sounds packed, but there was a bedroom on each floor, and everyone had their own schedule. I just needed a place to sleep and store my things, but it felt like I moved into MTV's Real World House: Anglo-style. It's not always the case, but the new flatmates would invite me to join them at events like an art show, a house party, a trip to Kew Gardens, etc. In a city like NYC an ad looking for a roommate might typically say, "We're hoping for someone who is never home."
3. Brits can cook
We weren't actually a family, but almost every night living in the house was spent eating dinner together at a huge table, enjoying the likes of a curry feast, grilled pork chops, or a traditional British dish like shepherd's pie. Everyone in the house left work around the same time, 5pm-ish, knew how to cook, and then there was me in the background, exclaiming, "How do you know how to cook like this?" It just seemed to be the European way, a bunch of singletons sitting down to a homemade dinner. I'm not much of a cook, so I'd make my contribution by doing the grocery shopping and cleaning up afterward. You may think to yourself, "Well, it may have just been this one house." Yes, it could've been, but I've done two shares in London, and have gone to visit friends in their homes, and it's always the same thing: plates flying everywhere, cutlery being set, food on the stove and in the oven, wine being popped, with stories being told. Pass the parsnips, please! Brits enjoy their food: All of Sunday is dedicated to a roast, and there's a British TV show named Friday Night Dinner.
4. You can quickly become a local
Now that you've figured out your lodgings, you may start to feel like a local, so it's time to act like you belong. I used to stop into the dry cleaner in Angel, located in North Islington, and the clerk would ask me for my phone number as identification (as they do in the U.S.). Since I had an address, I could get a proper landline phone. On my second trip to the dry cleaner, he asked me for my number per usual, so I pulled out a piece of paper and read the number to him. He laughed and kindly said, "You need to know your phone number." He pointed out that the first few numbers are the same for everyone, which are "020," and I only had to memorize the last bit, which isn't much longer than a U.S. number. The long phone number could be a little intimidating, but after breaking it down like that, I felt like Alan Turing.
On another trip out, I had an exchange with a clerk who worked at a garden shop. He looked a little annoyed and apologized for the wait, explaining one of his customers wouldn't stop talking. I was secretly delighted that the man was trusting me with some local gossip, but I kept my poker face, responding, "Maybe he considers you a friend? And needs someone to talk to." The clerk considered it, let it soak in, shook his head "no," and stuck with him being an annoying "bugger." It's those little exchanges that make living in London special, which you might not get during a brief holiday stay. Britons sometimes get a bad rap for being stiff, but obviously that's a generalization. When you live in the area you can get to know people, and you'll see people can be kind and helpful.
5. Enjoy the simple things
Now you have your flat, why leave? You have access to Netflix U.K., which has a fresh batch of shows to binge on, and BBC iPlayer. If you're lucky, you may have a garden out back in which to sit and read a book. But it is good to leave the flat every once in a while. Whether you're located centrally or outside of London in Zone 2 or 3, most areas are lined with shops, restaurants, parks, gardens, and maybe even a cathedral, and, of course, people. Sure, it's convenient enough to hop on mass transit and go touring around London, but it's also nice to enjoy what's in walking distance. When living in Stoke Newington I stopped into the same Turkish coffee shop every morning. One reason being, the kitchen didn't have a coffee machine, which is pretty typical of a British home. And, well, the coffee shop was two doors down. The first day I got my coffee and went on my way. The second day, I did the same thing. It may seem awkward, but the third day I introduced myself to the barista, saying, "Hello, I just moved in around the corner … you'll be seeing me." I admit, it does seem odd and unnecessary, but I felt like I just appeared out of nowhere and was getting quizzical looks. But it didn't hurt to introduce myself because every morning from then on we'd exchange pleasantries, and I would even run into the owner on the street for a catch-up. For some, going to the coffee shop for a chin wag was a whole day in itself. 
Have you spent any time living in the U.K.? What was your favorite part! 
See More:
10 (More) Things We Love About Living in Britain
10 Things About a British Home That Will Confuse Americans
10 British Go-To Pubs in NYC
Read More
Filed Under: