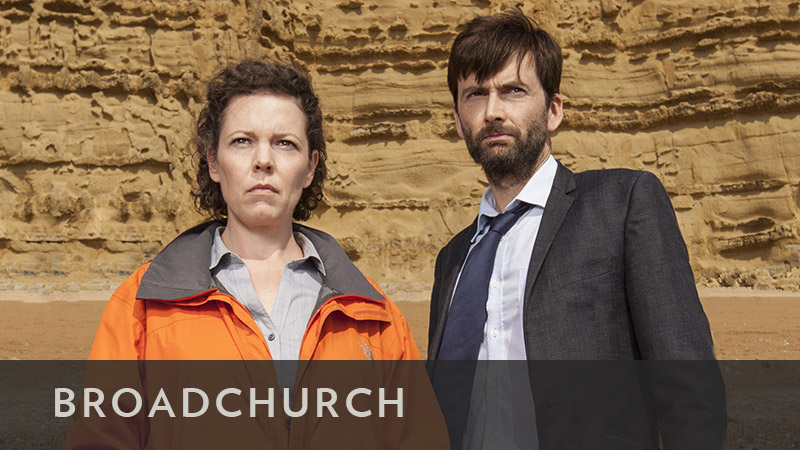 You don't get to capture the attention and imagination of the world by telling a 'whodunnit?' story that simply focuses on that one-word question and nothing else. It can't all be fingerprints, suspicious blood stains and the meticulous checking of alibis; other stories have to be woven into the central narrative. In the case of Broadchurch in particular, these account for some of the most moving moments in what is already an incredibly emotional drama.
So, before Season 2 premieres on BBC AMERICA this Wednesday (March 4, at 10/9c), here are just five examples, tangential tales that proved a devastating counterpoint to the central tragedy.
Note: spoilers, for obvious reasons.
Beth Latimer's bombshell
As if to prove that tragedy has no respect for people's plans, the Latimer family are rocked not only by the death of their son, but also the discovery that Mark was being unfaithful to Beth (with Becca Fisher, owner of the local B&B) on the night Danny disappeared. Cue a lot of very shifty behavior on Mark's part, confusing Detectives Hardy and and Miller (and Beth) as to his true motives until the truth comes out.
But that's not the end of it, Beth has news for Mark. Having torn a strip off him for being (among other things) "a selfish, childish, egotistical, self-centered bastard," she delivers the final blow to his feeble excuses about needing a bit of variety: "I'm pregnant." So then the question is, amid the grief and turmoil and betrayal, does she keep the baby and stay with Mark, or not?
Jack Marshall's story
One of the most emotional plot twists in the whole series came from old Jack, local newsagent and leader of the Sea Brigade. During the investigation, Jack is revealed to have been imprisoned for a year for having a sex with a minor, which, when placed next to the photographs he took of some of the boys in his care, and his tactile nature, looks bad. Indeed a vigilante group heads over to the Sea Brigade club house once Jack's story starts to leak out.
We learn that he's suffering from grief at the young son he lost in a car crash, the son he shared with the young girl he was imprisoned for falling in love with and later married. As he confessed to Danny's dad Mark: "I miss my boy, holding him, touching him. We're the same, Mark. No parent should outlive his child."
But ultimately the shame of his secrets becoming public was too much for Jack, and he took his own life, rather than become the subject of vicious gossip and suspicion.
Paul Coates's story
As local vicar in an increasingly secular community, Paul's role in the unfolding drama becomes more important as people continue to look for answers and fail to find them. But while he quickly secures Beth's confidence and is clearly pleased at the rising attendance at his Sunday services, his nervous demeanor and terrible insomnia—leaving him walking the clifftops in the middle of the night—make him look very much like a man with something to hide, which he is.
The truth is, he's a recovering alcoholic, going to meetings in a neighboring county to avoiding running into his parishioners, and while it looks like he's using Danny's death to put bums on pews, his is a less cynical story than Alec Hardy is prepared to admit. The death of Danny Latimer is the making of Paul as a vicar, one of the only sparks of optimism in the whole sorry affair.
Susan Wright's story
Having spent most of the time since Danny's death behaving in a suspicious and aggressive fashion (she warned local newspaper editor Maggie off with a terse "I know men who would rape you"), Susan's story turns out to be every bit as upsetting as Jack's.
Her eldest daughter was sexually abused by her husband, who then killed her when she objected to him turning his attentions to her younger sister. And worst of all, Susan had no idea what was going on, despite her husband having told the police that she was in on the whole thing. Her children were taken into care, even her newborn baby, whom she later tracked down in Broadchurch under his new name Nigel Carter. For his part, Nigel (who wants nothing to do with her) steals Susan's dog and threatens to gut it if she doesn't leave him alone.
Alec Hardy's story
The word Sandbrook follows Alec Hardy like a bad smell. A former case of his that went very publicly wrong, it's the reason journalist Karen comes down to Broadchurch, it's the reason his new boss offers to take him off the case as soon as it begins, and it's clearly something that weighs heavily on his heart. Literally as it turns out. He needs to keep taking pills or he will collapse with stress, which he does, twice.
It turns out the reason the Sandbrook case (an investigation into the murder of a young girl) collapsed after a pendant, a vital piece of evidence, was lost. And it was lost because it had been bagged by a detective sergeant who left it in her car to go and meet a colleague with whom she was having an affair. That car was broken into, and the pendant was stolen. The killer is still at large. And the kicker? Apart from it being very publicly revealed that it was Hardy's responsibility as senior officer that the case collapsed, the detective sergeant in question was his wife, from whom he is now divorced, and his daughter doesn't even know what happened.
See more:
ITV Confirms Season Three of 'Broadchurch'
WATCH: David Tennant Narrates the 'Broadchurch' Theme
WATCH: 'Broadchurch' Season 2 Teaser, BBC AMERICA Air Date Revealed
'Broadchurch' Recap: Episode 8, Season Finale
Read More
Filed Under: