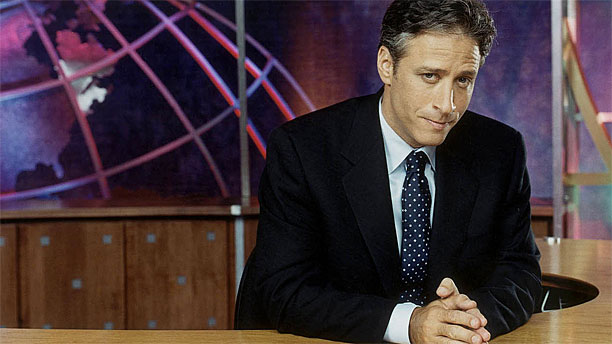 The problem with gathering together any kind of greatest hits of Jon Stewart's captaincy at the helm of The Daily Show–which he announced is coming to an end–is partly one of being awash—there is so much stuff to choose from–and partly fear: can you get away with repeating some of the more provocative things he has said?
Nevertheless, Jon Stewart's analysis of the British, whether in politics or entertainment, has been so sharp, funny and eye-opening, it's worth running in British schools as a lesson in tough international diplomacy (assuming you can get past all the bleeped-out swears).
Here are five examples that we're pretty sure we can talk about (not including the time when The Daily Show was banned in the U.K. for mocking the workings of the British parliament):
"I'm just the last English twit"
It should all have been so easy. Colin Firth leaving his hotel in 2003, ready for a day promoting his new movie Love, Actually, meets some fans, says hello and strides off in a regal fashion, before tripping and hurtling to the "cobbles," or as Jon would have it, "sidewalk."
"I guess it'd be the wrong time to ask you to marry me"
They say every good interview is a form of flirtation, although this is more like a full-scale seduction between two men who are clearly a little giddy when sitting face to face. Naturally Benedict Cumberbatch, the perfect gentleman, takes it all in his stride.
Mitt Romney in London
A helpful moment here, with Jon editing out any disparaging comments from Mitt Romney as he visited London shortly before the 2012 Olympics. Were the Brits ready? Uh, yes. So ready it transformed even skeptical British attitudes towards the event, creating a wave of goodwill and genial patriotism that lasted until the last firework had exploded over the closing ceremony of the Paralympics, a month or so later.
"Do you want to go out in a blaze of glory?"
Ricky Gervais is such a staple of American talk shows (yes, even more so than Benedict Cumberbatch) that it's hard to find fresh avenues of conversation. Luckily, the fabled British sense of fatalism can always be brought into service as a stand-by in a tongue-tied moment. It's either that or talking about children's television shows of the past.
"Can't you at least wait until Jon Stewart gets back?"
The Daily Show didn't just provide a launch platform for the stellar careers of Stewart and Stephen Colbert; there's also John Oliver, that plucky British guy from the Midlands who got to stand in for Jon when he was off directing his first movie Rosewater. Whatever happened to that guy? He's a funny guy. Maybe he could stand in for Jon Stewart forever? Who knows…
See more:
WATCH: Trailer for John Oliver's HBO News Show 'Last Week Tonight'
John Oliver on Hosting 'Daily Show': 'It's an American Institution, I Have to Try Not to Destroy It'
'The Daily Show' Special: John Oliver's Greatest Hits
WATCH: John Oliver Suggest Ways to Avoid New Year's Eve
Read More
Filed Under: