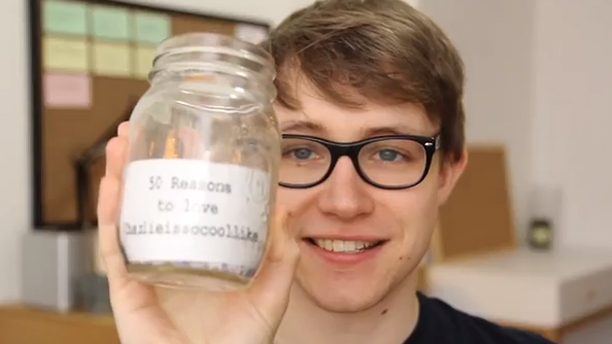 Video bloggers tend to be young people with something to say, utilizing the internet as a platform. Vloggers, or YouTubers as they might be called, have set up camp on YouTube, not only finding their voice, but a huge audience, and ultimately creating a community. YouTubers speak directly into the camera, basically dictating a personal diary, inviting viewers into their lives on a personal level.
We'd like to spotlight 10 British YouTubers making an impact with one silly, but thoughtful, video at a time.
Let's take a peek at an early video from each, and one of their more recent, to see how far each has come:
1. Charlieissocoollike
Charlie McDonnell has been making internet videos since 2007. In his current video introduction he says, "Yes, I genuinely had nothing better to do," as a bored kid. But, now he has such a huge following, it's become his career. His videos range from making tea, as seen in his first video below, to showing off his English accent, singing a duet with himself, and his love of Doctor Who.
2. JacksGap
Jack Harries decided to take advantage of his gap year, which is taking a year off before starting college, and documented his travels with the help of his twin brother Finn.
3. Zoella
Zoe Sugg is a fun, vivacious girl who talks about fashion and beauty on her blog. She's done work offline too, publishing a New York Times bestselling novel Girl Online in 2014.
4. Emma Blackery
Emma Blackery kicked off her channel reading passages from Fifty Shades of Grey, which were removed when Christian Grey's people got wind of it. But Blackery didn't lose her stride, and kept going with topics like gaming, boys, and, you know, her thoughts.
5. Joe Sugg
Zoella's brother Joe was recruited to the vlogging-sphere by viewers, as he mentions in his introduction video below. We're guessing there wasn't too much arm-twisting; vlogging is fun.
6. LucyandLydia
We get a two-for-one deal in this video series, with identical twins Lucy and Lydia providing beauty and fashion tips. They even take us on a trip to Disney World with them.
https://www.youtube.com/watch?v=KobnojL1Lj4
7. Patricia Bright
Patricia Bright is a twentysomething beauty and fashion vlogger living in London. She's not scared to start off a video post with no makeup, giving viewers application tips. She kicks it up a notch, throwing in fitness.
8. Tyrannosauruslexxx
Lex Croucher has a 9-to-5 job and typically keeps her vlog posts to Tuesday and Friday. She talks about her work life in her series, as well as books she's reading, obscure Netflix categories, and, of course, choice of nail polish color.
9. Caspar Lee
You may recognize Caspar Lee from Joe Sugg's roommate prank video. Caspar was the roommate. It sounds like YouTubing might be contagious. Lee is ridiculously funny, and his videos are indeed infectious.
https://www.youtube.com/watch?v=r_Tx9vtiF3k#t=53
10. Tom Scott
Tom Scott's YouTube channel isn't just entertaining, but helpful. He features a series of "Things You Might Know," like "Why Do the British Have Separate Hot and Cold Taps?" or "Why Part of New York is Built on British Rubble," which we've highlighted in Anglophenia posts.
11. Alfie Deyes
Alfie Deyes YouTube channel "PointlessBlog" covers topics like teaching his mum internet slang, reading fan fiction, and making embarrassing phone calls. We kicked off this post with Charlieissocoollike, and so did Deyes in his first video blog seen below.
Are you tempted to start your own YouTube channel now?
See More:
Siobhan Thompson is Our Very Own British YouTuber
10 Things About a British Home That Will Confuse Americans
Funny British Road Signs
Read More
Filed Under: