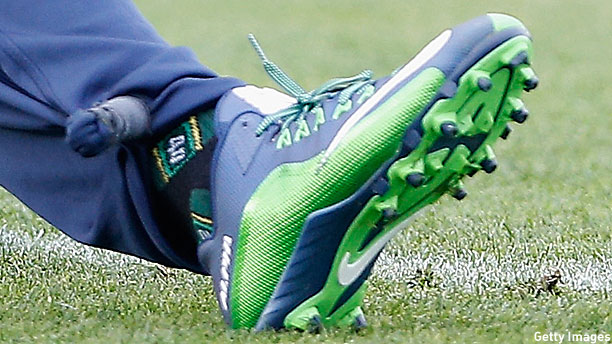 This list is rife with bewilderment and confusion, as a British mind attempts to make sense of terms, names and phrases that simply do not happen on the European side of the Atlantic.
Bachelorette
If you're about to get married, and you want to throw a party to commemorate the passing of your single-ness, that's got different names depending on where you are. The British prefer to call their male would-be-weds stags and their female counterparts hens. So instead of a bachelor or bachelorette party, there's a stag do and a hen do. And it's unlikely that, as with other traditions like baby showers, the American version will eventually take over as, to most British ears bachelorette sounds like an unnecessarily frilly feminization of an exclusively male term, akin to, I dunno, beardette or prostatrix.
Backhoe
Sometimes other people's language decisions can be baffling. Imagine you'd never heard the term backhoe before, would you assume it meant the same as digger? Neither did I. Digger seems a lot clearer a word for a vehicle with a big digging device on its back—even one used for hoeing—than backhoe. Put a digger (most commonly known by its trade name JCB) in front of a Brit and ask them to think of alternative names for this invaluable building tool, and they simply would not come close to backhoe. Why would they? It's a digger. It is used for digging. It digs. Backhoe? Tsk!
Bear claw (and elephant ear)
It's odd, given that there are so many British sweet snacks with strangely unappetizing names—flies graveyard, fat rascal—that the bear claw and elephant ear haven't made their way across the Atlantic. It is certainly not a lack of interest in danish-style pastries with fruit filling or palmier-style pastry swirls. Suffice to say if you're visiting the U.K. and ask your hosts where you could get your hands on a bear claw, be prepared to wind up at the zoo.
Cleats
This is a little fiddly. Basically, U.S. sporting terminology uses the term cleats to describe a pair of shoes or boot with studs or spikes coming out of the sole to avoid slipping on grass. However, the U.K. version, the word simply refers to the studs themselves. That is, if we use the word at all (studs seems to work just fine). The only slight exception is that cyclists, whose cleats are not studs, do use the word more often, but its by no means common. You're far more likely to hear football or rugby boots referred to as football or rugby boots, golf shoes as golf shoes, and for cyclists to talk openly about the stuff on the soles of their footwear to a largely befuddled audience.
Beltway
The M25 is a mighty motorway, forming a circle around London and keeping it safe from invaders (by creating a mighty perimeter shield of traffic). It is a road, and it is roughly in the shape of a ring, so it, and other roads that do a similar job, are known as ring roads. By contrast, a beltway sounds more like the bit where your groceries go at the supermarket, or possibly a branch of Weight Watchers that focuses more on girth than poundage.
Broil
The Brits have an international reputation for cooking food in hot liquids, so you could forgive them a moment's confusion over the words boil and broil, especially when they're really not the same thing. If you want to make toast, you have no toaster but you do have a cooker with an overhead heat source, for a Brit, that's grilling, not broiling, as it takes place under a grill. Although grilling isn't a million miles away from griddling, so neither approach makes life easy for hard-working chefs in a noisy kitchen environment. Let's call this a draw.
Burglarize
Not that it would be hard to work out what someone meant if they used the term in the U.K., but if you were to come home to your home and find someone had broken in and stolen your stuff, while we can all agree that the crime is burglary, the verb form of that term is very different. While Americans say burglarize, Brits say burgle because it's a crime committed by burglars, not burglarizers.
Druthers
A fine old American expression, derived from "would rather" (as in "if I had my would-rathers, I'd been living in Paris now"), but one that is entirely unknown in the U.K. outside of the context of American literature. It's not that there's been a decision not to use the term, delightful and colorful as it is, it's just not used, and would probably cause a curling-up and blushing of any British person brave enough to give it a go.
Normalcy
It's not as if there isn't a term for things reaching their least unexpected state in the U.K—normality—it's just the suffix is different. Normalcy just seems like a deliberately strange alternate choice, one which raises the interesting possibility of other options that may have once been on the table during a long and protracted brainstorm, such as normalitude, normalment, normalness or (for normal women) normalatrix.
Stick shift
"Do you drive a stick?" is a question that always raises a quizzical British eyebrow whenever it crops up in American TV shows or books, not least because the person asking it is always pointing to a car and never at anything that ever fell off a tree. And for once, this is a difference of culture as well as simple language. The British driver's default position is to drive a car with a manually operated gearbox and three pedals. Automatic gearboxes were traditionally viewed with suspicion and only relatively recently enjoyed any kind of prominence as a driver option in Britain. Consequently, not only is it nonsensical to enquire as to the option of driving what Brits call a manual because almost everyone does, they wouldn't understand stick shift as a term either, especially as automatics also have a stick that requires shifting.
See more:
5 Words Anglophiles Should Really Use More Often
Why Brits Spell Words Like 'Realize' With an 'S'
10 British Words for Illness
The Brit List: 10 British Words That Don't Have a U.S. Equivalent
Read More
Filed Under: