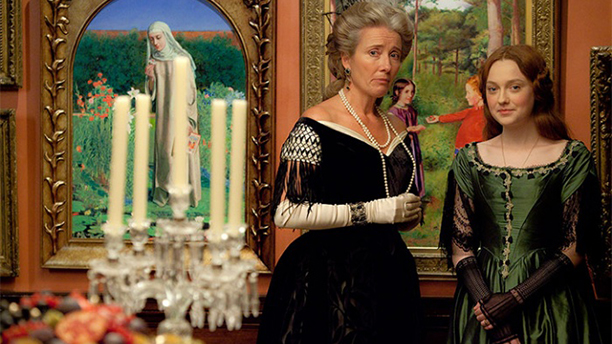 With five films coming out in 2015, there's apparently no shortage of roles for Academy Award winner Emma Thompson.
Even so, rather than leaving it to chance, Thompson (Saving Mr. Banks) has taken it upon herself to pen the screenplay for the anticipated biopic Effie Gray, which she also stars in.
That's one way to ensure job security.
American actress Dakota Fanning (The Twilight Saga) takes on the title role, a teenage Scottish girl who enters into marriage with esteemed art critic John Ruskin (Greg Wise) in Victorian-era London. Her life drastically changes in what feels like a mere moment.
For most girls, particularly in a time when women had few rights, this seems to be an ideal union, but there is one problem: Ruskin finds his wife revolting.
Thompson's character, Lady Eastlake, realizes the young bride is struggling, but there isn't much she can do, as seen in the domestic trailer below:
While Eastlake may be at a loss, Thompson herself has, "turned the catastrophe of their marriage into a robustly entertaining film," according to The Guardian's Peter Bradshaw.
The cast is rounded out with other familiar British faces including Russell Tovey (Looking), Tom Sturridge (On the Road), Julie Waters (The Hollow Crown), Derek Jacobi (Last Tango in Halifax), and Linda Bassett (Call the Midwife).
Based on a true story, Effie Gray is directed by Burton and Taylor's Richard Laxton and hits U.S. theaters on April 3.
Are you excited to see Emma Thompson in a period drama? 
See More:
WATCH: Warm Up with Heated British Costume Drama Scenes
Snapshot: 12 British Actors Rocking Cravats in Period Dramas
Looking Backward: British Period Drama – the 21st Century Edition
Read More
Filed Under: