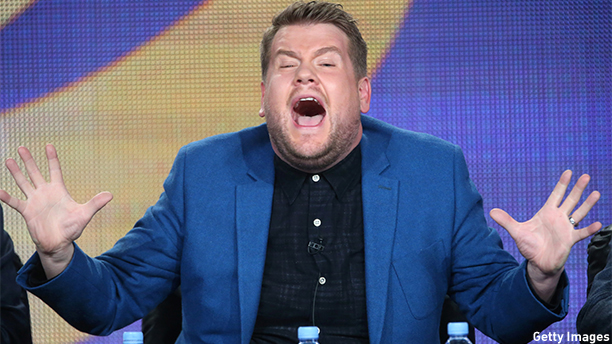 We don't like to stir the pot, but we'll step out of character this one time: What's up with David Letterman picking on our Anglo favorites?
First he didn't know what David Tennant was known for, and now he's taking jabs at James Corden.
Corden is set to take over The Late Late Show from previous host Craig Ferguson. There's been a slight delay, and Regis Philbin is currently standing in as guest host.
Letterman swung by The Late Late Show with sidekick Paul Shaffer, and when talking to Philbin, exclaimed, "Where's the tubby kid?"
Oy! What do you really think David? Even Philbin was a little caught off guard, just repeating Letterman, saying, "The tubby kid?"
Letterman even questioned Corden's dedication to the show in the below video:
https://www.youtube.com/watch?v=xzJ6Gvbhk9c
They seemed to get on well when Corden stopped by Letterman's chat show:
https://www.youtube.com/watch?v=2HKxIwQW5Xs
Corden is uprooting his family, and moving from England to California. Packing can take a while … we'll wait!
He will make his late night debut on March 23.
What did you think of David Letterman's dismissal: jest or jab?
See More:
WATCH: David Tennant Schools David Letterman on 'Doctor Who'
WATCH: James Corden Finds Taking Over 'The Late Late Show' "A Bit Terrifying
11 British Hosts Who Could Replace David Letterman
Read More
Filed Under: