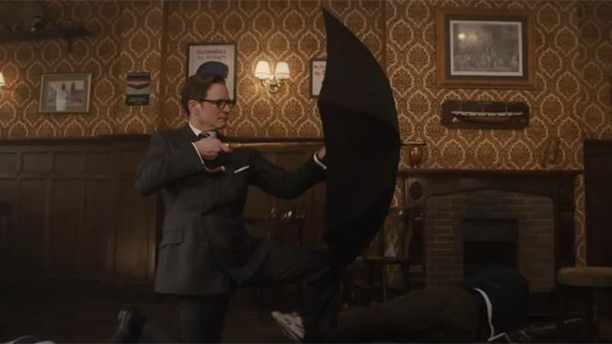 Colin Firth action star. Hmm, it doesn't quite roll off the tongue just yet. Even his own children had a giggle, watching him train in their back garden for his role as a secret agent in Kingsman: The Secret Service. 
Firth had a candid sit-down with Heart Radio U.K., saying, "There was a bit of pain involved … a couple of times."
The British actor just wasn't used to moving around that much, but he trained for six months to get the "hinges oiled and moving."
During the interview, which you can watch below, he points out most urban males use their legs to get out of a car, head to work, and sit down again (or, to kick Daniel Cleaver). But, Firth doesn't head to an office, and his first month on set he found himself squatting, lunging, and even performing somersaults.
He starts off the interview his typical self-deprecating self, but he turns it around, saying, "It's amazing what persistence can achieve. By the end of it, that's all I wanted to do. It's sort of like a dance."
His young children aren't old enough to watch the entire film, but they witnessed him training at home. He eventually reached "fitty" status, but it was a slow process, with him saying, "I was at times mocked, as they watched me getting beaten up by a superior fighting force in my own back garden."
You can watch the entire interview below, where Firth talks about his first meeting with Kingsman co-star Michael Caine:
Kingsman: The Secret Service hits U.S. theaters on February 13.
Does this make you want to see him in action even more? 
See More:
Watch: Colin Firth, Mark Strong and Michael Caine in 'Kingsman' Trailer
Watch: Colin Firth Kicks Refined Ass in 'Kingsman' Trailer
Colin Firth is Keen on Doing TV Again
Read More
Filed Under: